*This post may have affiliate links, which means I may receive commissions if you choose to purchase through links I provide (at no extra cost to you). As an Amazon Associate I earn from qualifying purchases. Please read my disclaimer for additional details..
The new baby is here, and all you want to do is buy them a million different cute little outfits! But honestly, let's be real here: How often do they wear the outfits? Like once ever? And don't you remember what your mother always said about buying you clothes? You'll just grow out of them!
And who grows faster than a baby? So yes, buying your new little one a closet-size wardrobe may make adorable pictures, but it won't feel so cute and innocent when they outgrow their clothes in a few weeks, and you've spent all this money and have all these clothes for less than a month!
To take the more practical and wallet-friendly approach, you can make statement wardrobe pieces for your baby by going minimal. With just a few basics you can mix and match adorable outfits and won't feel as devastated when they outgrow them.
So let's start your kid's Marie Kondo journey young and get them used to appreciating just a few beloved pieces of clothing in their fashion toolkit!
What Is a Minimalist Wardrobe for a Baby?
A baby's minimalist wardrobe will be different from an adult's. For example, adults can wear accessories such as jewelry, glasses, and scarves that would not be too safe for an infant to wear.
Babies can wear tops and bottoms like a grown-up, but when it comes to changing diapers, a onesie is a lot easier to deal with than pants and will save you a lot of time taking them on and off.
Shirts are not necessarily important because onesies do the job perfectly– they're like bodysuits but for babies! No need to tuck in any shirts!
Baby clothing options look more like onesies, pants, rompers, and socks, with a few other items depending on circumstance. Before deciding what to buy, there are a few things to consider first:
Comfort over cuteness
Yes, it is so tempting to buy adorable clothes and overlook the actual coziness. Beauty is pain, right? Well, babies don't know that, and frankly shouldn't know that!
When my little sister was a baby, she didn't have any hair, and to work with that, my mom bought these headbands that she thought were just darling and would put them on my sister every day.
However adorable they were, my sister would always cry whenever she had them on, and we found out that they began leaving a slight indentation on her skin. They'd been too tight!
So, when buying clothes, always listen to your baby– they're the ones wearing them after all! If they fuss and cry over having to wear that adorable romper, sorry, mom, but you may need to return it!
Clothing Colors, Prints, and Patterns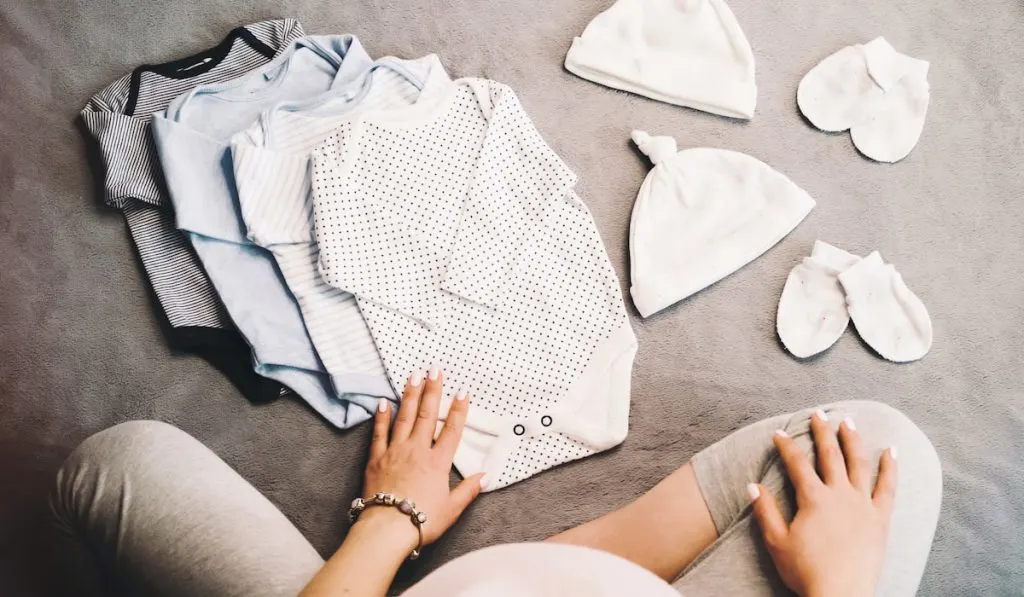 As they say, with capsule wardrobes, the best have high functioning and coordinated color palettes. These are always subjective, based on what you as parents want for your child. You can do neutrals, bright bolds, animal prints, Disney characters, or wild patterns! Whatever matches your personality or vision for your baby best.
However, once you've chosen a palette, stick with it for all of their clothes! The goal is to pull any two or so pieces out, and they match.
This is especially helpful when you ask the hubby or baby's grandpa to grab some clothes, and the resulting outfit isn't an atrocity!
Personally, I find the most effortless capsule wardrobe style to be plainclothes in neutral, calm colors with a few pieces displaying simple patterns. These are easy to pair with any article of clothing but are still high baby fashion in a sophisticated way.
Temperature and Time of Year
Hopefully, with minimalism, you won't need to pull out a huge winter storage bin containing all of your baby's winter clothes. Still, the fact remains that just like us, babies need different clothes for different times of the year.
Winter will introduce long-sleeve onesies, mittens and hats, jackets, and winter coats or bunting sacks, which are winter coat-onesies. Summer will see a switch from these to short-sleeve onesies, shorts, rompers, and sun hats.
Laundry Limitations
This is where your personal lifestyle and habits come in. What is your regular laundry routine? Are you a once-a-week type of person? Or do you like to do progressive loads, one every couple of days? Whichever you are, this will factor heavily into the number of clothes you buy.
Babies make messes. From spit-up to food all over their face to a diaper bomb, sometimes babies need a new outfit multiple times a day.
So, if you only do laundry once a week, you may need to stock up on at least two or three more outfits than someone who would clean the clothes every other day.
So Here We Go, the Top 13 Baby Clothes You Need:
Year-Round
1. Onesies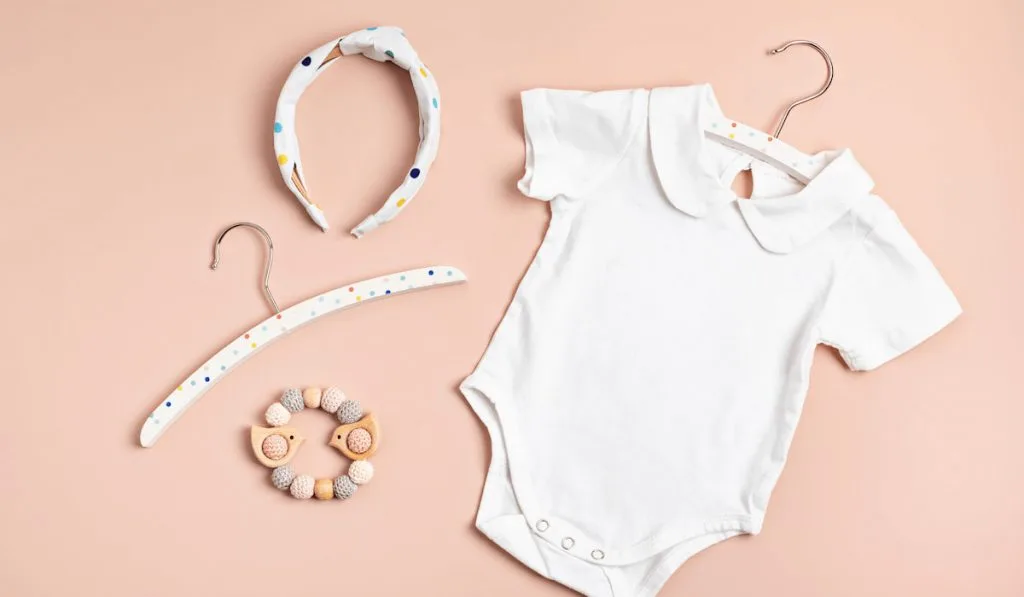 Onesies are designed to cover a baby's torso like a shirt but snap closed right underneath the diaper.
This makes a clothing item that is super easy to take on and off and quick to just unsnap the metal buttons around the bottom and change a diaper before it gets too stinky!
2. Pants/Leggings
Pants and leggings are less important because of the onesie, but if it's a little chillier or you'd like your baby to show less leg, then pants are a must.
Get soft pairs with elastic waists to ensure comfort for the baby and an easy slip-on-and-off for you.
3. Rompers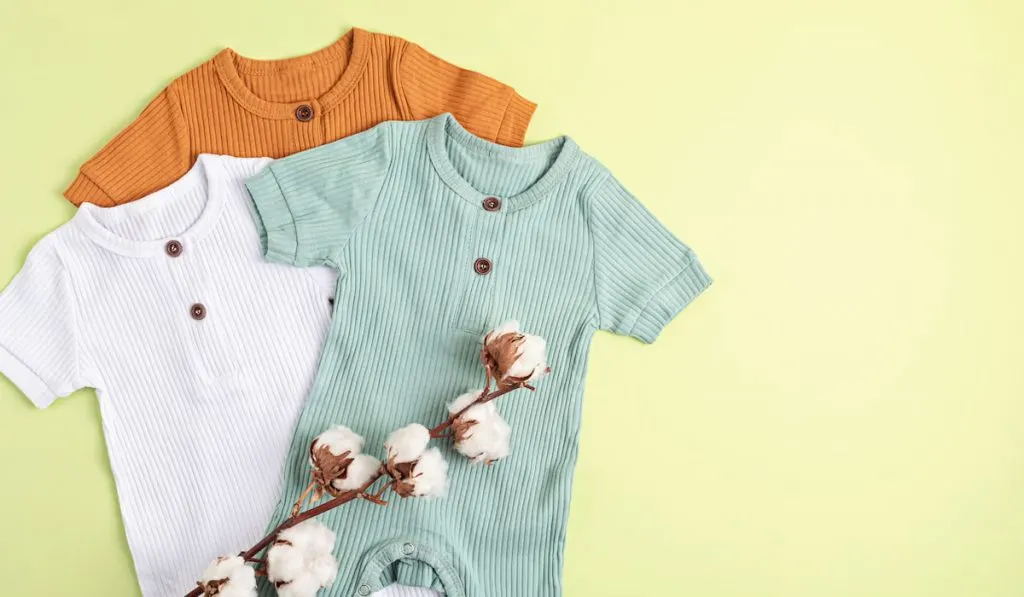 Rompers are more a style choice, if you'd like something a little cuter than a onesie but still is simple in that it's one piece of clothing, you want a romper.
Rompers, dresses, and overalls can add a little extra fashion flair to your baby's wardrobe. Just remember to keep it comfy!
4. Socks
Socks are for warmth when it's chilly or for foot protection when outside.
Babies don't necessarily need shoes until they can walk on their own, so socks can be just for coziness or for if you don't want anything directly touching your baby's feet.
5. Soft shoes
Soft, once again, for comfort! It's so important for your baby to feel good in their clothes!
Shoes are really only for babies who can walk and crawl or for a little added protection of their feet when out and about.
6. Sleep onesies
It's essential to get onesies that are even more comfortable for sleeping. Depending on the temperature, get sleep onesies with feet exposed or covered.
Summer
7. Sun Hat
Babies' skin is sensitive, and there's nothing sadder than a big ol' red, sunburned baby! Sun hats are a must for extended periods outdoors.
Try to find hats with wide brims and chin straps or some other method of ensuring they stay on and secure.
8. Sandals
Sandals are mainly to dissuade overheating. Usually, if a person or baby is feeling hot, the best way to cool down is to cool the head or the feet.
Winter
9. Sweaters
Layering is a great way to keep your baby's temperature stable, and you can easily add or take off a sweater depending on how they are feeling.
10. Winter coat or bunting sack
For extended periods outdoors. Bunting sacks cover the whole body like a onesie, so they tend to be more effective in keeping the baby's whole body warm.
11. Beanies
In reverse, if you are feeling cold, the best way to warm up is to cover either your head or your feet!
12. Mittens
For extended periods outdoors, keep your baby's sweet little hands from getting bitten by the frosty wind.
13. Booties
Booties will keep your baby's feet warm and protected from harsh winter weather.
Amounts of Clothes Based on Age
0-3 Months
8-10 Onesies
2-3 pairs of pants
1-2 rompers
4-6 pairs of socks
1-2 pairs soft shoes
2–4 sleep onesies
1 sun hat
1-2 pairs sandals
2-3 sweaters
1 winter coat
2-3 beanies
2-3 pairs of mittens
1-2 booties
3-6 Months
10-15 Onesies
3-4 pairs of pants
2-4 rompers
6-8 pairs of socks
3-4 pairs soft shoes
2–4 sleep onesies
1 sun hat
2-3 pairs sandals
3-4 sweaters
1 winter coat
2-3 beanies
2-3 pairs of mittens
2-3 booties
6-9 Months
10-15 Onesies
4-6 pairs of pants
4-5 rompers
6-8 pairs of socks
4-5 pairs soft shoes
2-3 sleep onesies
2 sun hats
2-3 pairs sandals
4-5 sweaters
1-2 winter coats
2-3 beanies
3-4 pairs of mittens
2-4 booties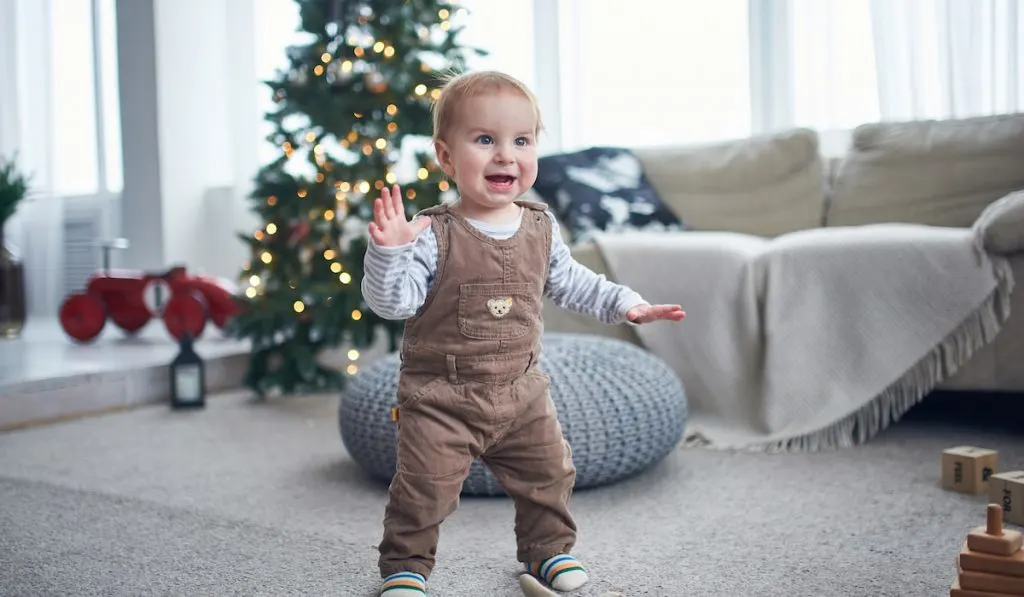 9-12 Months
10-15 pairs of Onesies
6-8 pairs of pants
5-6 rompers
8-10 pairs of socks
5-6 pairs of shoes
2-3 sleep onesies
2 sun hats
3-4 pairs sandals
5-6 sweaters
1-2 winter coats
3-4 beanies
3-4 pairs of mittens
3-4 booties
Resources