*This post may have affiliate links, which means I may receive commissions if you choose to purchase through links I provide (at no extra cost to you). As an Amazon Associate I earn from qualifying purchases. Please read my disclaimer for additional details..
Welcoming a new baby into the family is a big deal for most people.
It doesn't matter whether the couple is finally blessed with their first child or the family is getting bigger with twins or even triplets, this milestone, or life achievement, is a thing worth celebrating.
You heard that they're planning to throw a party, so you expected a baby shower to take place, but then, they said that they were having a baby sprinkle.
So, you must be wondering, what is a baby sprinkle? How does it differ from the usual baby shower?
In this article, we will explore what separates these two celebrations from one another and their significance.
What Is a Baby Sprinkle?
A baby sprinkle is typically a celebration for a new baby that is much smaller than a baby shower.
Usually, parents that prefer to have a small crowd for the party will opt for a much more laid-back, easy-going, lighter party for their baby.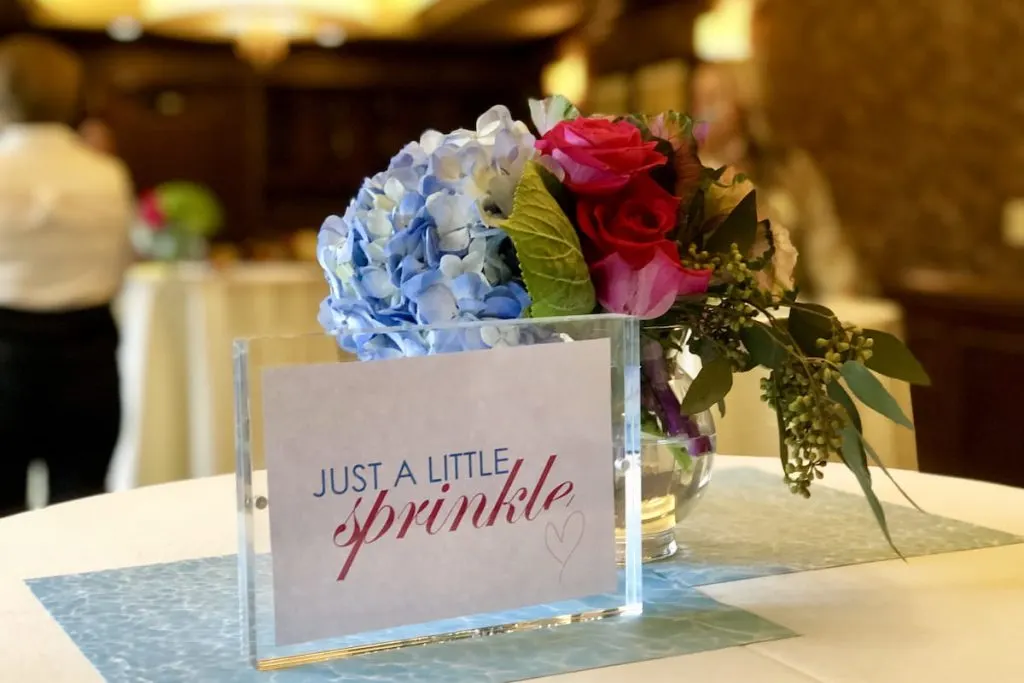 What Is a Baby Shower?
A baby shower is usually held to welcome the first baby in the family. The parents will organize a large party to celebrate their very first child by inviting a large crowd.
However, some people with deep pockets will also throw a baby shower for their second or third baby.
This term usually changes to a baby sprinkle when the crowd gets smaller and the party is shorter.
What's the Difference Between a Baby Sprinkle and a Baby Shower?
Aside from the number of crowds and the duration of each party, a baby sprinkle doesn't involve a full-blown baby registry, which is usually included in a baby shower.
The parents usually have received all the major necessities that a baby should need from the previous baby shower, so guests will only bring smaller gifts for the party.
However, if the parents are throwing a baby sprinkle for their first baby, all the guests are more than welcome to offer all the basic gear that a newborn needs.
It is also worth noting that a baby sprinkle is more casual than a baby shower. There are no formalities, itineraries, fancy decorations, games, and other entertainment for the guests.
If you intend to have an intimate gathering, a baby sprinkle is your best choice.
When Should You Throw a Baby Sprinkle?
The best time to throw a baby sprinkle is two to three months before the due date. This equates to between the sixth and seventh month of pregnancy.
Meanwhile, a baby shower is usually held much closer to the due date, which is around one to two months before the baby is scheduled to arrive.
It also depends on the availability of both parents and the mother's condition.
As long as the baby sprinkle is not planned too early or too close to the due date, then any day during the second or early in the third trimester should be fine.
What Gift Should You Expect When Having a Baby Sprinkle?
Since a baby sprinkle is usually planned for the second or third baby, the guests usually know that they don't have to bring bigger infant necessities or equipment to the party.
Some of the gifts that you can expect are:
Baby toys
Diapers and wipes
Baby clothes
Gift cards
Bathing products
Toiletries
Baby lotions
Money
Bedroom decorations
Children's books
Freezer meals
If your guests are generous enough to provide you with bigger items like a new crib or stroller, there is no restriction for them to give whatever they want.
Who Should You Invite to a Baby Sprinkle?
There are no long guest lists, etiquettes, itineraries, or fancy decorations. You only have to spend money on food, drinks, and simple props or backdrops for a photo session.
You can invite close family members, best friends, or even close colleagues.
If possible, keep the number of guests under twenty people. This way, you don't have to worry about doing heavy cleaning after the party.
Keep in mind that a baby sprinkle is another way for you to share your private moments in life with the people you care about.
Enjoy it, share your experience during pregnancy, and focus on having quality time with all your guests.
How to Organize a Baby Sprinkle?
If you're thinking that a baby sprinkle will require a lot of legwork and manpower, that's not what this celebration is. Keep the image and concept of a baby shower out of your head.
Think of a small gathering that you host for your family members and close friends. That being said, these are a few steps to take when planning for a baby sprinkle.
Set the Most Suitable Date
Although the guest list isn't as long and big as the one you usually have for a baby shower, it is important to remember that other people have their plans and things to do.
Find the best date between those 8 to 10 weeks before your due date.
If anything comes up, you have the flexibility and wiggle room to adjust the date without having to rush or make your guests feel guilty for not being able to come to your baby sprinkle.
Pick a Good Venue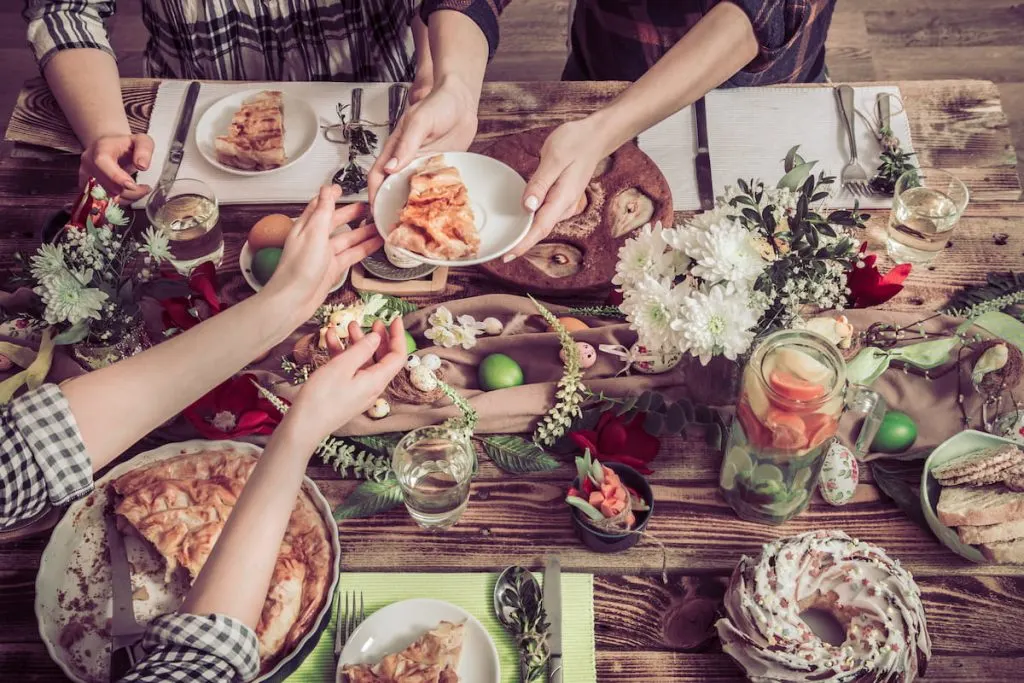 However, if you don't have the time to plan for everything and don't mind spending a few hundred bucks for this small party, then pick a venue that is less crowded or noisy.
Avoid bars and busy restaurants. You should focus on privacy, intimacy, and quality time with your guests.
Send Out the Invitation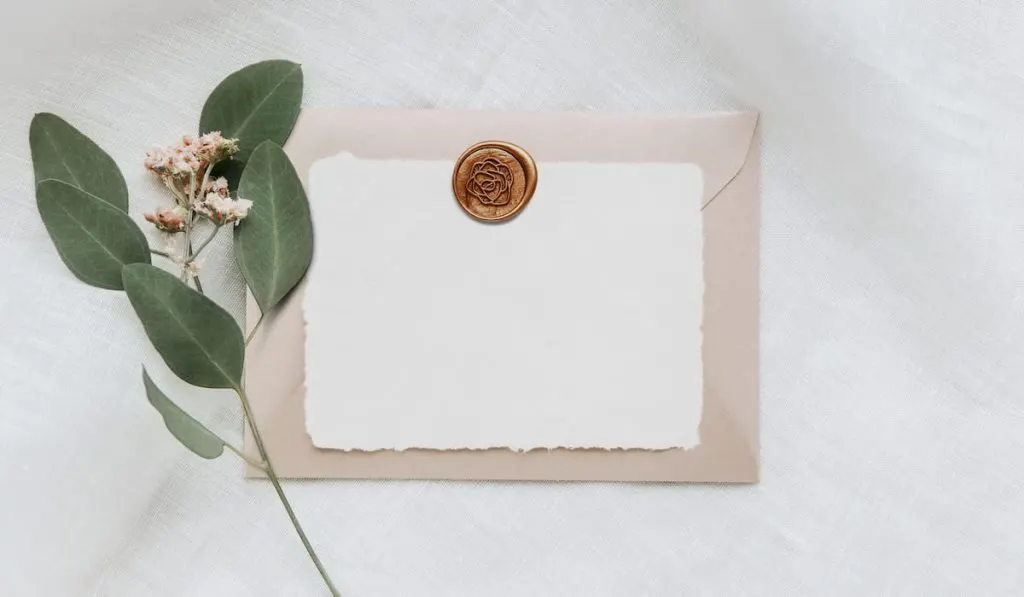 Once you've decided on the date and venue, it is time to send the invitations.
To avoid spending on unnecessary items like invitation cards, you can reach out to your guests through phone calls, text messages, and emails.
You can also design an online invite and post it on social media. But be sure to adjust the privacy setting on the post to "only your family and close friends".
Serve Something Simple
With a small number of guests, you don't have to worry about serving your guests a big meal. Instead, pick something simple, sweet, and easy to serve.
You can opt for varieties of sliced fruits, cupcakes, ice cream, cookies, and other sweet treats. Use recyclable paper plates and cups so that you don't have to wash everything after the party.
Prepare a Thank-you Note
A few days after the party, you can send a thank-you note to your guests. Similar to your invitation cards, you can do a courtesy call, text message, or even send an e-card.
This small gesture is more than enough to show your appreciation and love toward everyone that cares about you.
Final Thoughts
So, that's it! Both celebrations serve the same purpose, which is to welcome and celebrate the new baby coming into the family.
There are no strict rules on how to organize both baby shower and sprinkle.
Don't feel pressure to plan something big and go over your budget or even abilities just to impress the crowd.
If you're comfortable with having close family members and friends, then go for a baby sprinkle.
But if you feel that your baby deserves all the love he or she could get, by all means, organize a baby shower.
Resources