*This post may have affiliate links, which means I may receive commissions if you choose to purchase through links I provide (at no extra cost to you). As an Amazon Associate I earn from qualifying purchases. Please read my disclaimer for additional details..
A sweet treat can be the highlight of any party, especially when it comes to celebrating new life. Baby showers are typically themed around innocence and purity since they celebrate introducing new life into the world.
This theme can be celebrated with many different cakes, including traditional red velvet with cream cheese icing and chocolate ganache cupcakes. But there are countless styles and flavors to select from at local bakeries and grocery stores.
Many of the different factors you choose will determine how much you spend on your cake for this special event. Some factors include ingredient type, tier size, and decoration.
This post will give you an idea about how much your baby shower cakes might cost and how you can try to control that cost a little bit.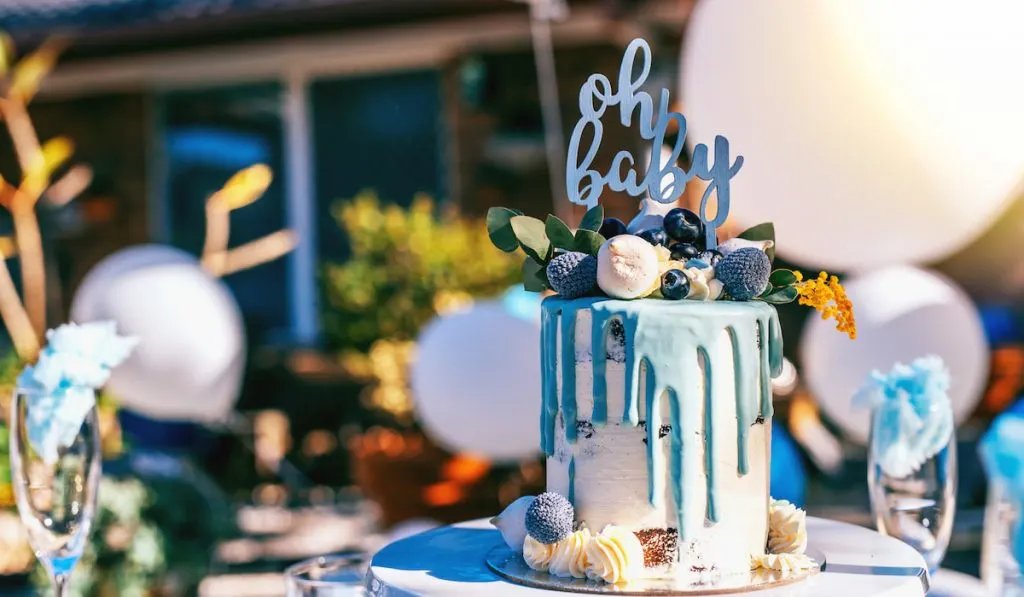 What Is the Price of a Baby Shower Cake on Average?
The price of a baby shower cake can range anywhere from $20 to as much as you want it to be. However, there isn't an average because prices vary widely depending on where you live and what bakery or baker you use.
The pricing is directly proportional to the number of servings included in each package deal.
For instance, if you plan for 50 servings, the cost will increase by two times more than the usual price. The price also depends on what flavors, sizes, and shapes that you choose for your cake.
As the selection is so diverse at bakeries and grocery stores, customers with any size budger can find something in their price range.
11 Factors Affecting the Cost of a Baby Shower Cake
The tier size – The larger the baby shower cake, the more expensive it will be. There are three main options for tier sizes: six-inch, eight-inch, and ten-inch.
The number of tiers – More ornate cakes may have four or five tiers instead of three. This price difference can increase your final bill by $100 to $200.
The flavor – A cake with more ingredients (such as fondant) will cost more than a cake with fewer ingredients.
The decoration – A simple design will be less expensive than an ornate one, although the price difference can vary depending on how much work is required to create each type of design. For example, fondant roses are typically cheaper than fresh flowers because they require so little effort.
The presentation – A cake that is beautifully presented will cost more than one that just comes in a box.
The bakery or baker – Prices for baby shower cakes vary widely depending on the location of your bakery. A boutique bakery in a major city will likely have higher prices than one in a suburb, neighborhood, or small town where rent is lower and overhead costs are less.
Additional decorations like fresh flowers and edible images can significantly increase your final bill. Make sure to discuss these options with the baker before placing an order for your baby shower cake. If you're on a budget, consider decorating your cake yourself or having a friend do it for you.
Price shopping – You can find cheaper options by comparison shopping. If you have a friend who is also planning a baby shower, compare prices. There may be an even better deal if multiple people order cakes from the same bakery or baker.
The delivery and setup – The additional time needed to deliver the baby shower cake and set it up increases its price tag. If you want a professional bakery, catering company, or florist to handle this process for you, expect to pay extra.
The cake stand – If you want your baby shower cake served on a custom-made or specialty cake stand, this will increase the cost of the final product. A simple plain plastic or glass base is typically less expensive than something with ornate carvings and detailing.
Any other accessories – If you want to purchase other items (such as napkins, plates, or utensils) in addition to your baby shower cake, this will increase the price of the final product.
What Are The Different Flavors Of a Cake?
Cakes come in many flavors. Some of these flavors include vanilla, chocolate, strawberry, red velvet, lemon, and much more.
There are plenty of flavors that you can choose from for baby shower cakes, but the most important thing is for your guests to enjoy every bite. Choosing a tasty yet reasonably priced cake is important.
Some cakes have more filling while others have less frosting and cake than the standard varieties. The cost of each flavor varies with how much filling it has and can be customized to include fruit or other ingredients that may add an extra price tag to the cake.
For example, many people like to add raspberry or lemon filling. It is also common for a cake to be iced with either chocolate icing or vanilla icing.
The color of the baby shower cake will depend on your preference, but most people usually go for white or ivory. The pastel colors are appropriate since these hues will match any decoration you have in mind.
You can also opt to choose a colorful cake if you want something unique and vibrant.
What Should Be Included On the Top Layer of the Cake for Decoration Purposes?
You may put decorations that represent baby-type things like diapers, rattles, and bottles, along with other baby-related items. Or if you want, you can keep it simple and just add some flowers or a name.
The colors of the decorations depend on the theme and design. For example, if you want a baby shower themed around pink or princesses, use those colors for your decorating ideas.
How Do Decorations Affect the Price of a Cake?
Think about what kind of cake you want. Do you want it fully decorated with fondant, or do you want an iced top layer without any decorations?
The cost of decorations will depend on what you like. You may find more inexpensive-looking items at dollar stores or Walmart/Target, but it might be worth spending more for something that looks better and lasts longer.
Edible images and fresh flowers can significantly increase your final bill. Make sure to discuss these options with the baker before placing an order for your baby shower cake.
If you're on a budget, consider decorating yourself or having a friend do it for you.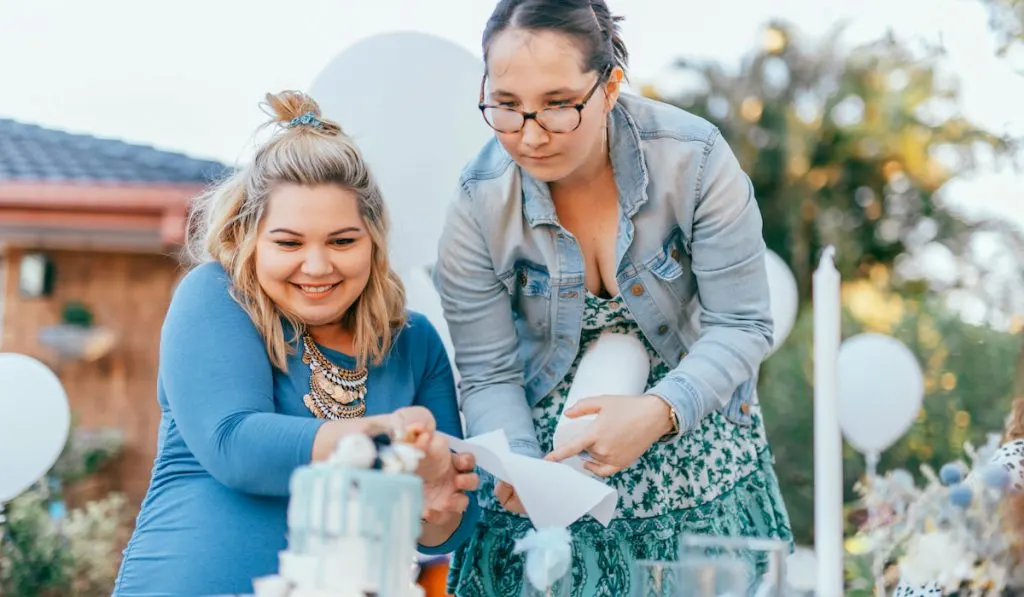 The Best Places for DIY Cakes
A professional bakery will cost more than buying one at a grocery store. Cakes at the grocery store are usually around $15. Bakery cakes can cost $75 or even more depending on how detailed they are.
Many other online resources provide information on how to make and decorate cakes, so have some fun and do some research. Consequently, a cake takes a lot of time to bake and decorate, so give yourself plenty of time to create your masterpiece.
How to Save Money When Ordering Your Cake
One way is to order a smaller cake than you need and request that the baker cut it into pieces before putting on any decoration. That way, you know exactly how many pieces you can get out of it.
If your baby shower is held in a restaurant, ask if they can let you preorder the cake to save time for everyone involved when planning the event.
Conclusion
A baby shower is a significant event for expectant parents and their families, especially for those who are celebrating this event for the first time.
A cake can make this occasion beautiful and memorable for all.
It's a great way to add color and life to the party and show everyone your style and taste. With all of the options available, it's easy for anyone hosting a baby shower to pick out their favorite design and make sure everyone has a great time.
Resources