*This post may have affiliate links, which means I may receive commissions if you choose to purchase through links I provide (at no extra cost to you). As an Amazon Associate I earn from qualifying purchases. Please read my disclaimer for additional details..
The boppy pillow was created as an alternative to other pillows that were too large or not fluffy enough. Their portability and versatility have made them a favorite among many mothers. They help to provide awake-time support for newborns.
A Boppy pillow has a C-shape with an opening in the middle for you to wrap around your tummy. Once you wrap it around your belly, you can prop your baby up for breastfeeding or bottle feeding.
But there are countless different ways you can use a Boppy for your newborn. Here are some helpful ways you can use your new Boppy pillow.
1. Feeding
Once the baby is born, you can use the Boppy pillow as support when you are breastfeeding. The Boppy pillow helps position the baby more ergonomically for a more comfortable breastfeeding or bottle-feeding experience.
Boppy pillows support feeding newborns in different positions such as cross-cradle, football hold, and cradle position.
A twin Boppy pillow will help you bottle-feed your twins at the same time.
2. Support
Boppy pillows support breastfeeding mothers by providing a comfortable, soft surface to lean on, thus reducing back pain caused by leaning over too much while breastfeeding. Mothers also get back and arm relief.
Babies feed up to 8 times a day, and the feeding sessions can last up to an hour. A Boppy pillow will ensure your baby is at the right height for comfortable feeding.
Your spine, shoulders, and neck will not cause you so much pain and you won't have to think about visiting a chiropractor due to back pain.
3. Propping
As babies grow, they need to be propped to have a better view of the world and for training them to strengthen their backs and muscles as they learn to sit.
You also get to have a precious hands-free moment to focus on something else.
4. Tummy time
Boppy pillows are great for tummy time. Tummy time helps babies develop shoulder muscles, strong necks and promote motor skills.
Just be sure to always monitor your child while they are using the Boppy pillow for tummy time.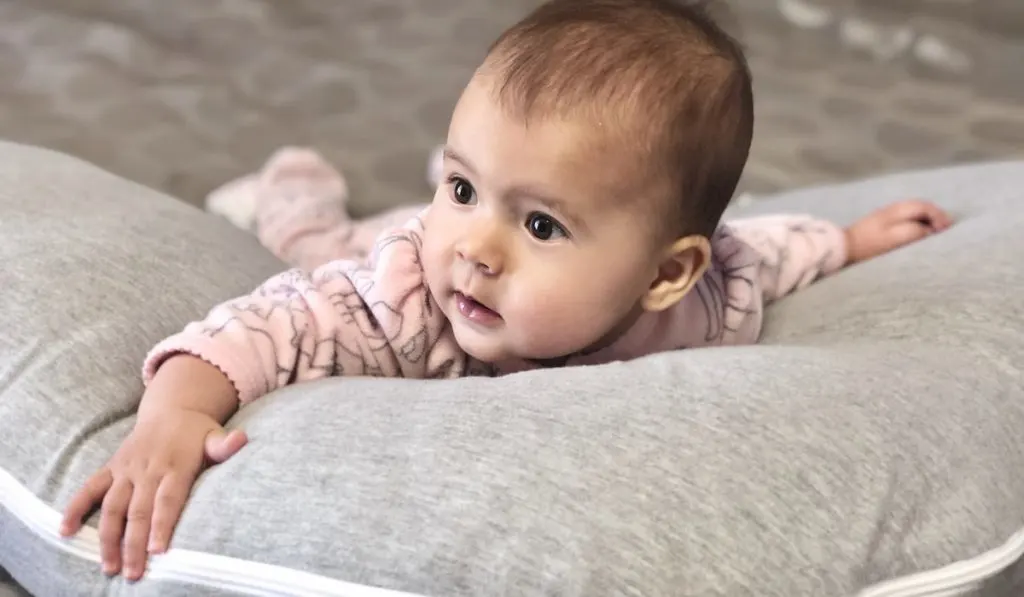 5. Sitting
From 9+ months, babies start sitting, and what better way than to give them support. This is the perfect time to use your Boppy to support your little one.
Alternate by placing the Boppy at the back and front while supervising them so they don't fall over.
6. Helps hand-eye coordination
When babies are very young, they cannot understand what objects are. Also, a baby's hand-eye coordination is not developed enough to grasp or pick up a toy.
One of the ways that parents can help their children develop those skills is by using a Boppy pillow in conjunction with toys.
The Boppy pillow helps support a child's head so that they can watch their parent play with toys in front of them. While they cannot grab the toy themselves, they can focus on it as they hold onto the Boppy pillow.
7. Supports back laying
When babies lie on their backs, they tend to be curious about what goes on around them. Propping your baby helps them have a wider view.
They also get to be closer to their hanging toys, which will help them with eye-hand coordination and motor skills as they try to reach them.
8. Sibling bonding
When a newborn arrives, everyone in the family wants to bond with them, including the children. A Boppy pillow will help siblings to bond together without you worrying.
Newborns can be wiggly and heavy for small children, but a Boppy pillow will provide support so the two can bond with adult supervision.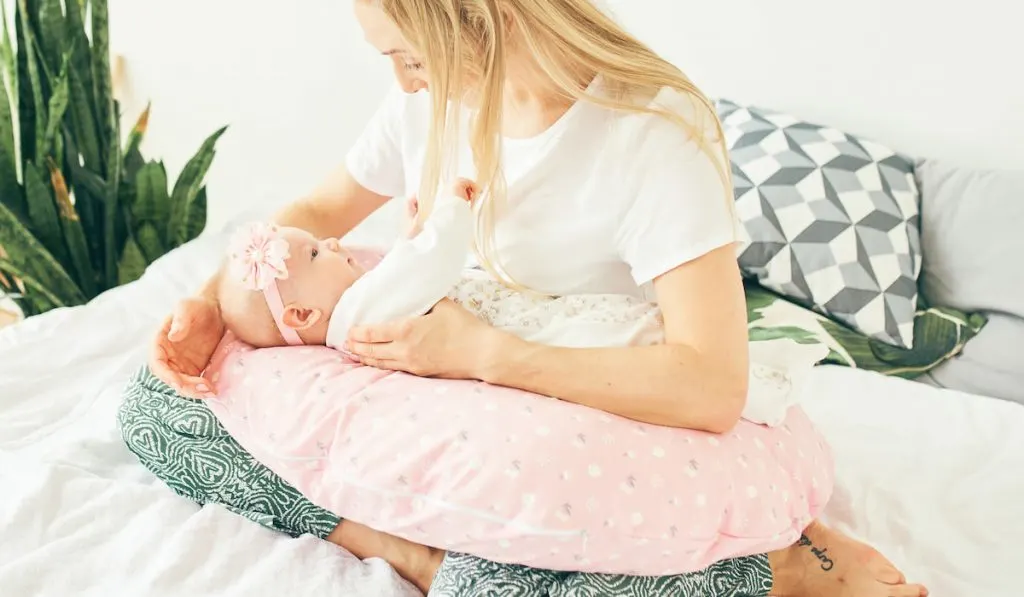 9. Eases congestion
Whenever babies suffer from a cold, it's hard for them to get comfortable lying flat. A Boppy pillow can come to their aid!
You will have to co-sleep with your baby in your bed. Use the Boppy to elevate the baby, this will help them breathe better and eliminate post-nasal drip.
If co-sleeping is not an option, use a cool-mist humidifier and have your baby elevated in a common space as you monitor them until they get better.
Caution When Using a Boppy Pillow
As convenient as a Boppy pillow is, you should not let the baby sleep unsupervised in a Boppy pillow as they risk suffocation.
Boppy pillows are made of soft materials that may cause babies to suffocate if left unsupervised.
Caring for a Boppy Pillow
Once you start using a Boppy pillow to prop your baby for spoon-feeding sessions, you will need to wash it to keep it clean.
A Boppy pillow is machine washable using mild liquid detergent on delicate cycles. There are also Boppy pillow covers you can use to keep it clean between full washes.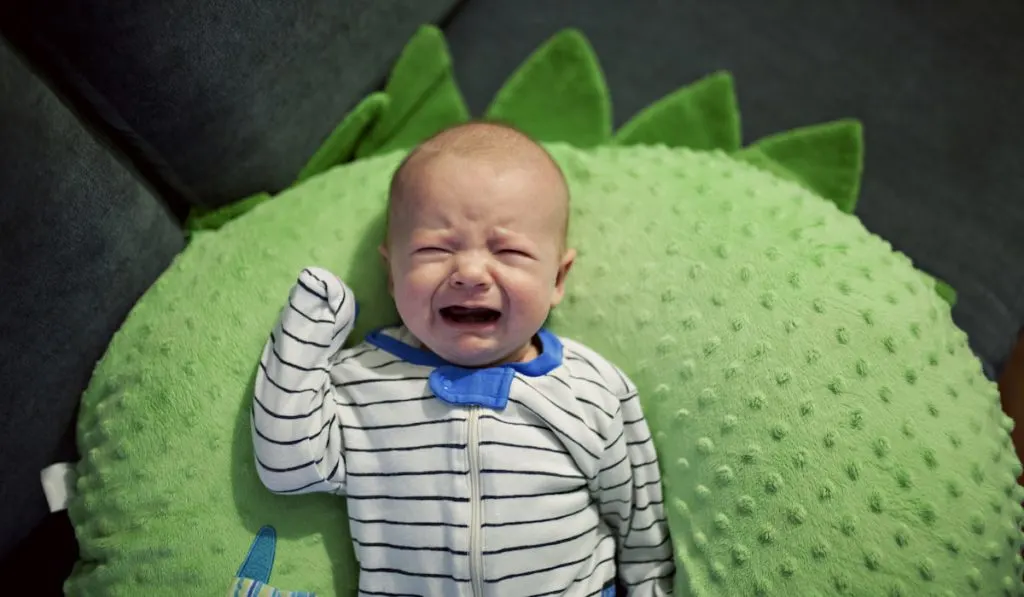 How Long Should a Baby Use a Boppy Pillow?
Babies can use Boppy pillows from 0-12 months. Older babies can also use them to prop themselves up when resting.
Final Thoughts
If you are considering purchasing a Boppy pillow, you should definitely go for it. There are so many ways that it will make your life easier. You will be comfortable when feeding your baby, and the baby can continue using it for a long time.
Some mothers even use it for their pets after their babies outgrow them.
Resources: