*This post may have affiliate links, which means I may receive commissions if you choose to purchase through links I provide (at no extra cost to you). As an Amazon Associate I earn from qualifying purchases. Please read my disclaimer for additional details..
If wishes were horses, we would all have the time and foresight to warm up our cars before loading the baby, making sure never to expose them to the cold. But that isn't always possible.
Even if you have a warm garage, you need to have ways to keep your children constantly warm in the car. Temperatures can fluctuate throughout the car cabin and it may not be as warm in the back of your SUV as it is in the front, especially in climates where winter days frequently dip below freezing.
As much as keeping baby warm in the car is paramount, we should not sacrifice the security factor for warmth. Always remember that snowsuits and winter coats, as well as other heavier clothing or blankets, are never to be worn beneath the harness of any car seat.
Why Shouldn't a Baby Wear a Heavy Coat in a Car Seat?
Car seat safety should always come first.
Bulky or heavily quilted clothing and blankets placed between the child and the harness create space that prevents the harness from working properly. Layers of fabric and stuffing can compress during a crash or hard braking incident, leaving space for your baby to move in or even be tossed out of the car seat.
Car seat manufacturers test and build their products according to specific standards and procedures. They are designed to perform best under certain conditions, which include a tight-fitting harness. Adding anything that removes the harness from a snug fit (when you can't pinch the harness straps together) against the child reduces the car seat's effectiveness.
What Should a Baby Wear in a Car Seat?
So what are your options to keep your baby both safe and warm while riding in the car?
Dress your baby in layers of light clothing. This will allow for the harness straps to still be tightened correctly and provide warmth nearest their skin. Onesies, long sleeve t-shirts, even infant base layers are good options. Make sure you don't forget socks, which can be in multiple layers, and mittens, if applicable.
Hooded sweatshirts made of thin fleece or cotton are also great options. The benefit of these clothing items is that they provide a hood for those babies that refuse to keep a hat on. Covering a baby's head makes a big difference in holding in their heat and keeping them warm.
If you are still nervous they won't be warm enough, you can wrap a blanket over the straps and tuck it in around them after they are safely strapped in.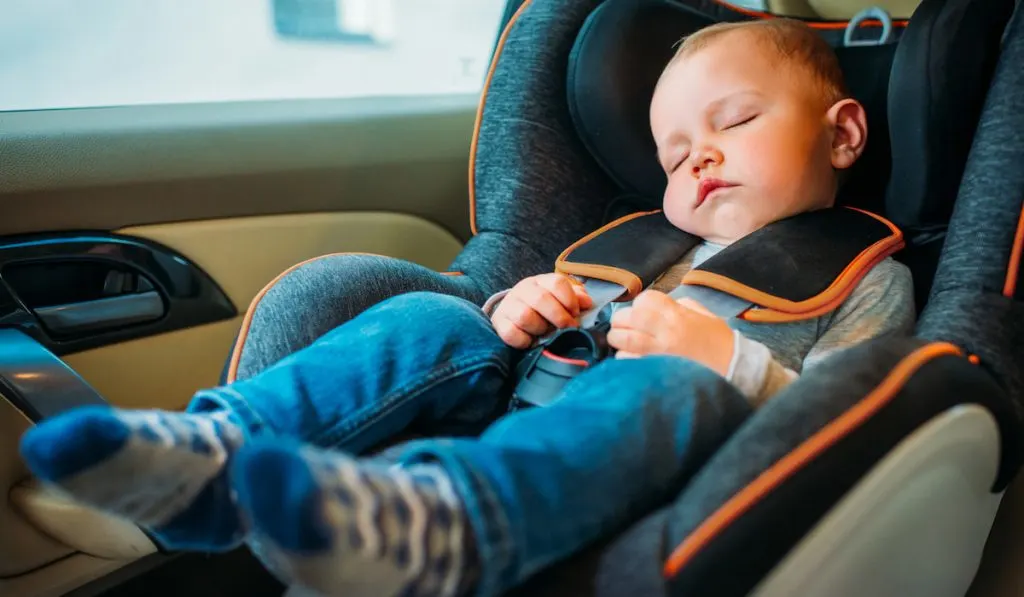 Tips for Keeping Newborns Warm in a Car Seat
Keep the Vehicle Warm, Preheat Whwn Possible
In cold climates, everyone values the heat in their car. Many models come with remote starters and running out to start a frosted-over car is normal. This is the best first step to take in keeping your newborn or any child warm on car trips.
In larger vehicles, temperatures in the back rows might be a little bit off from the front temperatures. You can periodically check to see if this is the case, and adjust the vents as necessary.
Dress Babies in Thin Layers
As mentioned before, multiple thin layers help keep the child warm while not impeding the function of the car seat. Dressing in warm sweaters and thin fleece jackets is a great tip for everyone, including babies, because they especially add extra warmth without extra bulk.
Thin layers are also beneficial because they give the extra warmth needed without having to worry about taking off heavy jackets as soon as you get into the car; an extra step that can cool the car off with open doors and make the baby fussy.
Thin microfleece body jackets are an option for the outermost layer over onesies and t-shirts. They may also come with zippers that allow you to release some heat should the baby become too warm.
Use a Blanket
A nice warm blanket placed over the car seat works perfectly well. In fact, infants and older kids may prefer this option.
Many kids have a favorite blanket that they take with them everywhere. Using their blanket with the car seat means they won't be without it and may even save some prep time and anxiety. They will be less likely to fuss about snuggling up with their special blanket once they are secured in the car seat.
Because you are placing the blanket over the safety harness and seat itself, there is no bulk added under the harness. It's a great idea to keep a few blankets in the car when you have young children, especially during winter.
However, do remember to wash or rotate them out periodically to keep them fresh, clean, and pleasant no matter who uses them.
Invest in Hoodies
Do your kids have a habit of taking off their hats almost as soon as you put them on? Sometimes, even if they can't reach it to take it off, babies will twist their heads and push their hats down over their eyes, then let you know about their discomfort.
Hooded fleeces or sweatshirts may be the solution to your problem.
These hooded items are available in any size imaginable. Since they don't add any bulk, car seat safety is maintained along with head warmth that stays put.
Use a Car Seat Poncho
This type of poncho is made of warm fabrics, sometimes in fun designs, making them a fun option for young kids and infants.
The ponchos are lighter weight and very simple to put on and take off since they only go over the head. They can be worn as a coat when going to the car, and then while in the car because they are worn over the seatbelt, like a blanket.
Wear a Coat Backward
Placing a coat on your baby backward is another great tip. That way, the coat is near at hand when you do exit the car.
This is easy to do, especially if you are strapping your baby into the removable seat in the house. Simply strap your baby in as you normally would, then reverse the coat, putting their arms through the sleeves with the open side toward their back.
For an older baby or child, you can put the coat on backward then later unzip it when you strap them into the seat. The effect is the same as for an infant. Remember to remove their arms from the jacket to strap them in the car seat, though.
Use Bundle-Me Wraps
Usually, adding anything to a car seat is frowned upon, but this one is worth a try. Bundle-me products go around the outside of the car seat leaving only the baby's head exposed, on the idea of a hair net.
They are especially helpful in trapping heat underneath and keeping tiny hands and feet enclosed within them. They work best for young infants and newborns before they start objecting to being confined.
They are also safe since they do not go under the safety harness, and are unable to be kicked off because the elastic fits under the outer edge of the car seat.
Additionally, they are great outside of the car, whether you are pushing them in a stroller or carrying them between the store and car in a bucket seat. Most have zippers to allow for ventilation during brief indoor visits.
Use Socks, Hats, Gloves, and Mittens
With these, you will successfully keep your babies warm and cozy without interfering with the car seat straps. However, if your baby is a thumb-sucker, consider using half-gloves with open fingers.
Either way, you will need to carry an extra pair of gloves and mittens since as soon as they get wet, they will make your baby cold rather than keep them warm.
Keep an 'In-Case' Kit in Your Car
It's a smart idea to have an extra kit of blankets, gloves, hats, dry clothes, and even non-perishable foods in the car, just in case there is an emergency or extra warmth is needed.
Conclusion
Although the automobile heating systems are highly sophisticated and adequately warm the interior of the vehicle, babies, especially newborns, may need it a little warmer, especially in cold climates. In general, newborns and infants need one layer more than what you have on. This fact makes adding a blanket over the car seat the perfect solution to giving them some extra warmth in the car.
However, your baby's comfort should be second to their safety in their car seat. Always ensure that the harness on your baby is correctly tightened before strapping them in. Bulky coats should not be worn under the safety harness in a car seat. Follow some of the tips above to provide extra cover over the harness for those winter day car trips.
Resources