*This post may have affiliate links, which means I may receive commissions if you choose to purchase through links I provide (at no extra cost to you). As an Amazon Associate I earn from qualifying purchases. Please read my disclaimer for additional details..
Expecting and new mothers usually fall in love the first time they put on a nursing bra.
While a nursing bra might be larger than what you've worn in the past, the extra size gives fantastic support and padding, making it one of the most comfortable bras in the world.
The right bra makes nursing at all hours easier. Nursing bras have openings, so moms don't have to take the bra off entirely to breastfeed. They're designed to save time and keep you comfortable in any breastfeeding position.
But what if you're not pregnant? Can you wear a nursing bra when you're not pregnant?
Many people buy and wear nursing bras even when they're not pregnant because of how great they feel.
Nursing bras don't have underwires or uncomfortable straps. They're soft and smooth on the skin, making wearing them all day comfortable, even when it's hot.
That's why a lot of people who wear nursing bras during pregnancy continue with them after their baby is born.
Let's take a look at why nursing bras are a popular option, even for people who aren't pregnant or with a newborn.
Extra Comfort from Nursing Bras
Typically, a nursing bra is made of flexible bands designed to emphasize comfort. The cotton lining and breathable fabric mean no wires.
As a result, the wearer stays comfortable whether they're standing or lying on their side.
In addition, some companies make sleeping nursing bras bigger and more comfortable than everyday nursing bras.
Most women wear wireless bras for comfort but opt for wire bras for work or for going out on the weekends. The wire provides extra support to keep everything in place and make your clothes look like they fit better.
With a nursing bra, however, you get a wireless option with the same level of support from double-layered bands that are thicker and knitted better to give you the support you expect.
There are some wired nursing bra models for new moms who want extra support when their breasts shrink after the first few weeks post-delivery.
When and if you make this switch depends on how you feel and when your breasts stop changing drastically.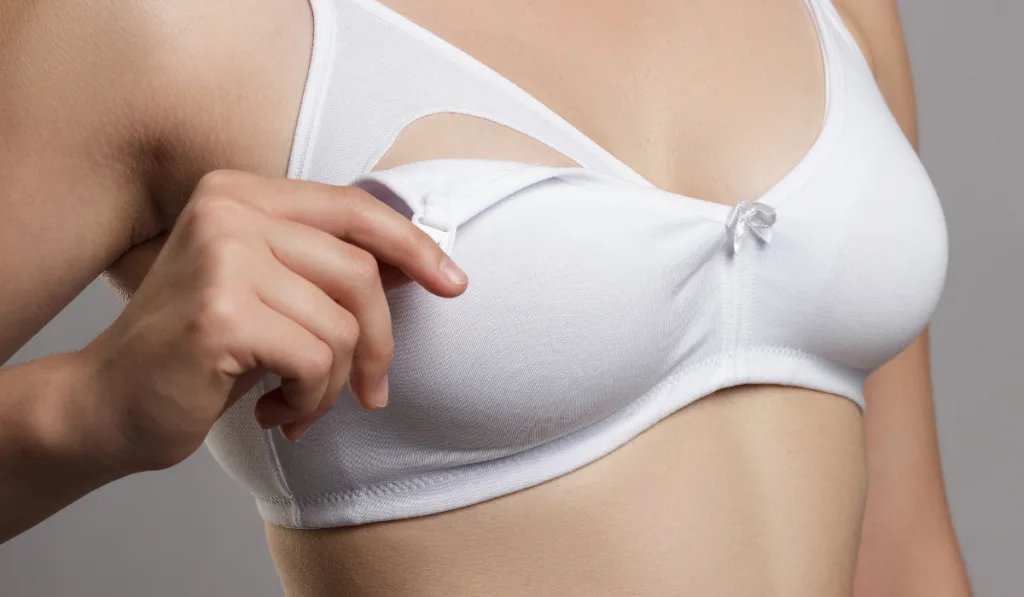 When to Wear Nursing Bras?
You can wear a nursing bra at home, at work, or when out with friends.
The only exception is if you're doing any high-impact sport: Nursing bras aren't sports bras. They don't fit as closely to your body because nursing bras need to be loose enough to make nursing possible.
Also, it would be a pain to struggle to get your breasts out every time your baby needs to eat. As a result, don't mistake the nursing bra for a sports bra.
Design Differences Between Nursing Bras and Regular Bras
The nursing opening is the main difference between a nursing bra and a regular bra.
Nursing bras usually have hooks, Velcro, or some other fastening mechanism that makes nursing possible. You can open the bra in a dress or open your shirt to make breastfeeding or pumping fast and easy.
They may not be ideal for wearing with a tank top or clothing with lower necklines if you don't want your bra to show.
The bottom of nursing bras looks similar to sports bras, though the fabric isn't as tight, and there is more padding for comfort.
The added padding and smooth seams make it a preferred choice for new mothers, expectant mothers, and people who prioritize comfort over smaller sizes.
What Is a Maternity Bra?
Maternity bras are another excellent option for people interested in comfort and don't want to deal with openings over the breast.
You'll usually find nursing bras and maternity bras in the same areas in stores or online shopping categories. However, they're not exactly the same.
Maternity bras are typically worn when someone is pregnant to keep things comfortable as breast size increases. They don't have openings, but breastfeeding is still possible due to the flexible fabric.
However, nursing bras are probably best for people who need to pump milk and breastfeed their babies.
Of course, your breast size will likely change as your pregnancy progresses and after giving birth, but wearing a maternity bra is a good way to determine what sort of padding and fit you want.
Final Thoughts
Whether you're pregnant, nursing, or neither, finding the right bra helps keep you comfortable.
A nursing bra will help make breastfeeding and pumping easier. When you relax, feeding is more enjoyable for you and your baby, and you can change positions without unnecessary pain!
And if you're not pregnant or nursing, a nursing bra is a great option for wire-free comfort.
Resources