*This post may have affiliate links, which means I may receive commissions if you choose to purchase through links I provide (at no extra cost to you). As an Amazon Associate I earn from qualifying purchases. Please read my disclaimer for additional details..
Comfort and support are everything when you have a growing baby bump. Maternity leggings are a great addition to your wardrobe if you want something comfortable and stretchy during pregnancy.
There are plenty of options whether you're looking for a pair to wear during your errands or for wearing around your home. Additionally, maternity leggings are available in different colors, lengths, materials, and sizes.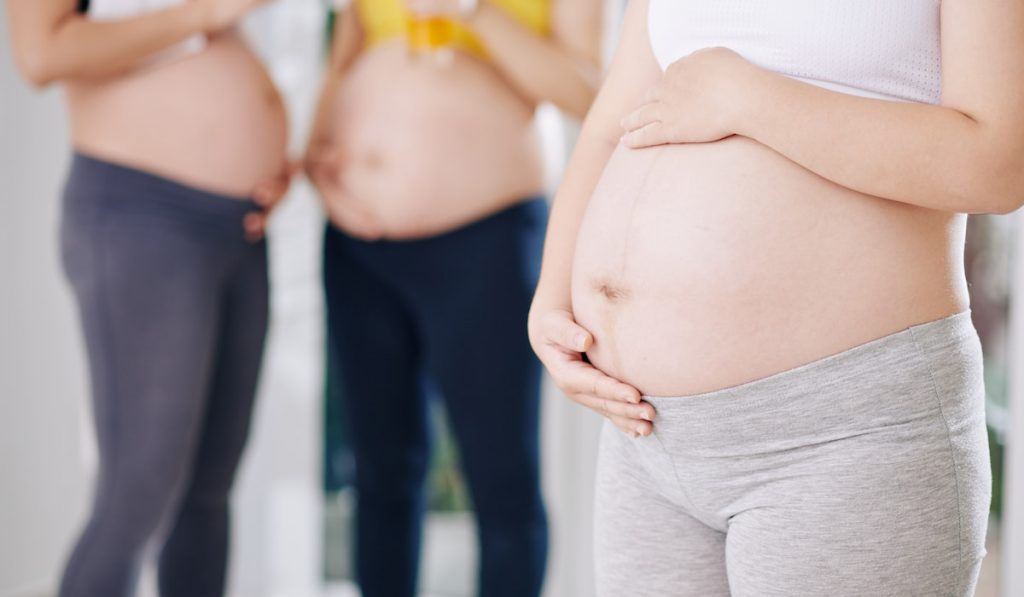 Unfortunately, most maternity leggings don't have pockets, making them inconvenient when you want to carry your keys, phone, and other items around.
Our detailed guide makes your work easy, as we've listed some of the best maternity leggings with pockets. We also cover some factors to consider when shopping for maternity leggings.
4 Best Maternity Leggings With Pockets
Here are four top-rated maternity leggings with pockets:
1. JOYSPELS Maternity Leggings
JOYSPELS maternity leggings are a must-have if you're looking for a versatile pair that you can wear daily for exercising or yoga.
The first thing you'll notice is the soft fabric.
These leggings are made with nylon and spandex, which are breathable materials. You can wear these leggings all day as they are comfortable and secure.
Apart from being stylish, these leggings provide excellent belly support from your first trimester and after delivery. They are stretchy around the belly and back to ensure the leggings don't drop as you walk, work out, or cycle.
Another impressive feature is the two deep side pockets on the leggings. You can easily store your keys, phone, and wallet inside. That allows you to do other activities without having to hold these items.
Pros
Provides high elasticity belly support
It has a soft, stretchable material
Has gentle compression
Stylish and versatile for various occasions
Fitted with side pockets
Cons
Some users felt that the leggings ran small and they needed a bigger size.
2. AFITNE Women's Maternity Leggings
AFITNE Women's Maternity Leggings are designed with care for moms-to-be. These leggings are perfect for walks, the gym, and chilling at home.
While it has some spandex material, the fabric is mostly nylon, which gives the leggings a natural feel that is soft to the skin.
The high stretchy waist makes it easy to wear the leggings over your bump. You'll also love the full belly coverage that provides space for your growing bump and after you deliver.
This brand also adopts advanced technology to have full pockets. The pockets fit your skin when you exercise without leaving excessive wrinkles.
You can put your phone, keys, and other things inside the two side pockets and enjoy free movement.
The leggings' four-way stretch and non-see-through fabric allow you to enjoy the flexibility and stretch of your growing belly. That, coupled with affordability, makes the AFITNE Women's Maternity Leggings an excellent purchase.
Pros
It has a breathable and stretchy fabric
Fitted with invisible side pockets
Provides full belly coverage
Affordable
Versatile for workouts, errands, and everyday wear
Cons
Some previous buyers didn't like how the leggings revealed the outline of the pockets.
3. POSHDIVA Women's Maternity Workout Leggings
These POSHDIVA maternity leggings boast a thoughtful design, excellent belly support, and stretchy fabric. Made from polyester and spandex, the fabric is soft but also thick for durability.
Two pockets on both sides allow you to store your cards, phone, keys, and more. You'll also love the full panel coverage that supports your belly without exerting too much pressure on any single point.
Its four-way stretched micro fabric makes it easy to move around, while the moisture-wicking feature keeps you dry as you work out. Additionally, you don't have to worry about chaffing or irritation when wearing these leggings.
You can use these comfortable leggings to run errands, go to the gym, or lounge around at home.
Pros
Have a stretchy, moisture-wicking fabric
Soft and lightweight material to keep you dry
Provides maximum belly coverage without the added pressure
Two pockets on the sides
Cons
Some users had trouble with the pants riding down due to their belly sizes.
4. Enerful Women's Maternity Leggings With Pockets
The Enerful Women's Maternity Leggings with pockets are designed with a "high-waist elastic over the bump panel." That's meant to provide a comfortable fit and ample space for your growing bump.
Unlike other plain maternity leggings, the Enerful leggings have unique lines that contour your curves, giving you a fashionable look.
Although these leggings are lightweight, they are not see-through. That means you don't have to worry when squatting or bending at the gym.
Previous buyers loved how Enerful leggings held their shape at the knees. The pockets are another added convenience when walking around or working out. You can simply enjoy a hands-free experience.
Pros
Great quality at an affordable price
Stretchy fabric to accommodate a growing bump
Fitted with a comfortable, full panel around the waist and back
Cons
Some buyers had to order a size down
May not be ideal for working out
Buyer's Guide: Picking the Right Maternity Leggings
With different brands selling maternity leggings, you may find it confusing to determine which pairs to pick and which to leave.
Fortunately, we researched and compared the different pairs based on various factors. We also looked at pairs that you could also wear postpartum.
Here are factors to consider when shopping for the best maternity leggings with pockets.
Ample Support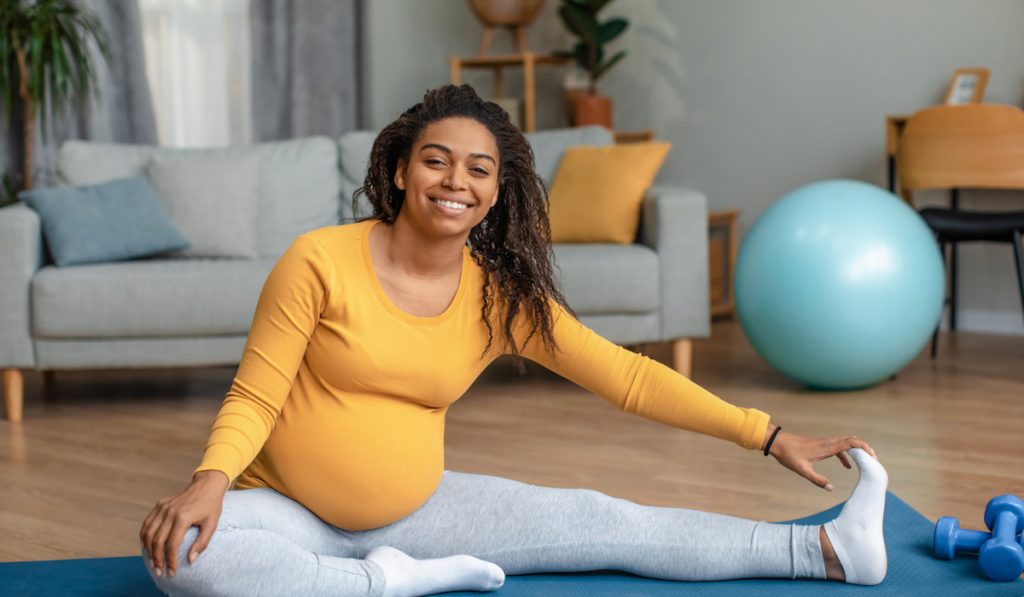 The right pair of leggings should provide plenty of support, but they shouldn't feel tight around your belly.
You'll find that some leggings have a belly panel if you like extra coverage or high-rise pants. Underbelly leggings are ideal if you prefer lower belly support.
Quality Fabric
The right fabric stretches enough to accommodate a growing belly.
Leggings with a four-way stretch don't dig into a growing bump, and you can stretch, squat, and bend without any problem.
The polyester and spandex combination is great for breathability and won't make you sweat as you work out.
Quality leggings should also have a non-see-through fabric. That will allow you to wear them while walking, working out, or when spending time indoors.
Size
Getting the right size when shopping for maternity leggings can be tricky. Some leggings are true to size, while others will require you to go a size down.
Check the manufacturer's size chart and read reviews to find a perfect fit.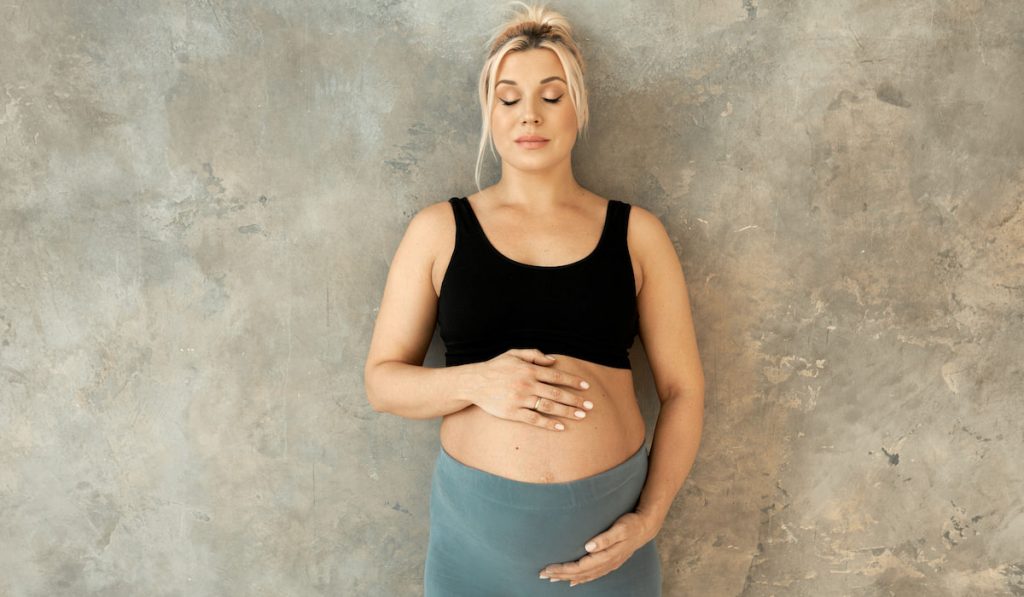 Extra Features
Look for maternity leggings with extra features like a drawstring waist, hem style, and pockets. Our list above has maternity leggings with pockets that allow you to carry your keys, phone, and other items for a hands-free experience.
Final Thoughts
Maternity leggings are simple to wear, comfortable, support your growing bump, and allow you to move without restrictions. They are also versatile, as you can use them as yoga wear, indoor pants, workout pants, and more.
Our list above has four top-rated leggings with excellent reviews if you're looking for quality leggings with pockets. Pick one based on your budget, style, and fit.