*This post may have affiliate links, which means I may receive commissions if you choose to purchase through links I provide (at no extra cost to you). As an Amazon Associate I earn from qualifying purchases. Please read my disclaimer for additional details..
Whether your baby has just turned one year old or is well on his way to being two, combining the desire to get out of the house with an age-appropriate activity is something every mom can appreciate. As kids get older, our options for entertainment expand but, what are some good places to take a 1-year-old?
One-year-olds always want to see, smell, touch, and eat everything they come across. Taking them out will help them learn a lot and can be a great sensory experience. Of course, it can also overstimulate them so it's always a balancing act.
Staying indoors at all times can be so boring! Taking them out provides a great sensory experience for you both. Here are some of my favorite places to take a one year old.
Aquarium
An aquarium will seem like a magical underwater wonderland to the impressionable mind of a one year old. Aquariums can be very exciting venues to visit with your little one. They offer great visual stimulation to children and are extremely educational.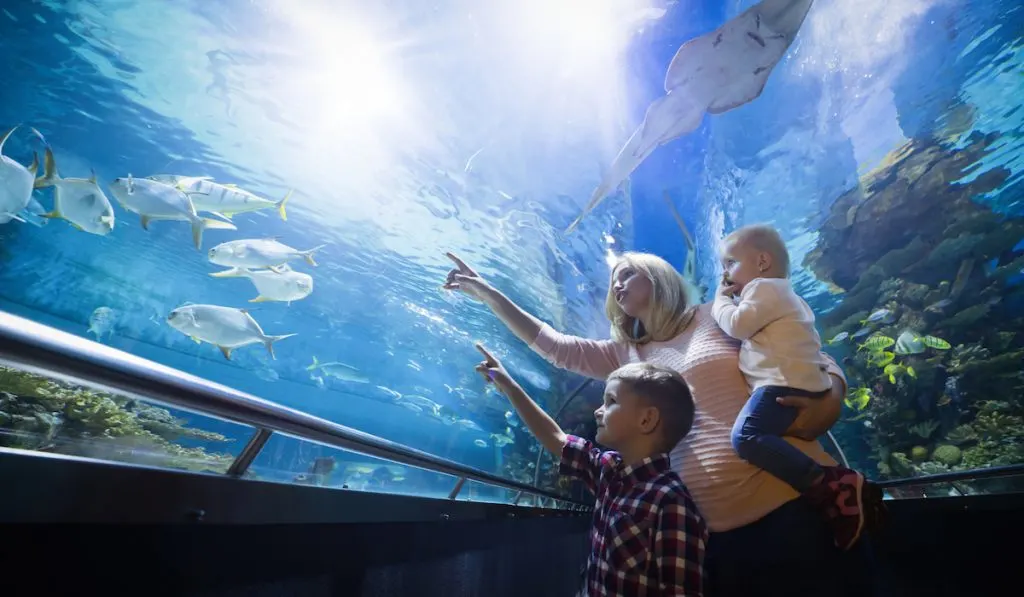 Walk into one of the aquariums in your local area. You can call in to inquire about the ones nearest you to know when they are open and what time they close. Ask for the prices too. The entry fee will most likely be $5 or more per person.
Promotes Education About Sea Creatures
Visiting aquariums with your little ones exposes them to a different world from what they are used to seeing.
Most kids will get used to domesticated pets such as puppies and cats. The underwater world is a new and exciting frontier for them to be introduced to (source).
Improve Your Little One's Vocabulary
There are countless words you can introduce to your child at an aquarium. Not only can they learn about new animals, they can learn words to describe the new animals they have now discovered (source).
Causes Feeling of Wellbeing
Research done by the National Marine Aquarium shows that aquariums can have a positive effect on humans causing them, in general, to have a general sense of wellbeing (source).
Appeal to Different Kinds of Learners.
There are displays and habitats that will appeal to visual, auditory, tactile, and kinesthetic learners. There is something for everyone at an aquarium (source).
What to Pack
Indoor Playground
Indoor playgrounds have areas specifically designed for kids of different sizes and ages. They are safe with padded floors, ball pits and slides. Let your kids explore the whole area and remember to tag along with them.
Call your nearest indoor playground to inquire about prices and what days they are open. Entry fees usually range between $5 and $15 per person.
What to Pack
Be sure to bring socks. Most indoor playgrounds do not allow people to enter the facility with shoes and it is unsanitary to go without socks.
It's also a good idea to bring hand sanitizer to make sure you sanitize your kids' hands after they get off the equipment being touched by the other children.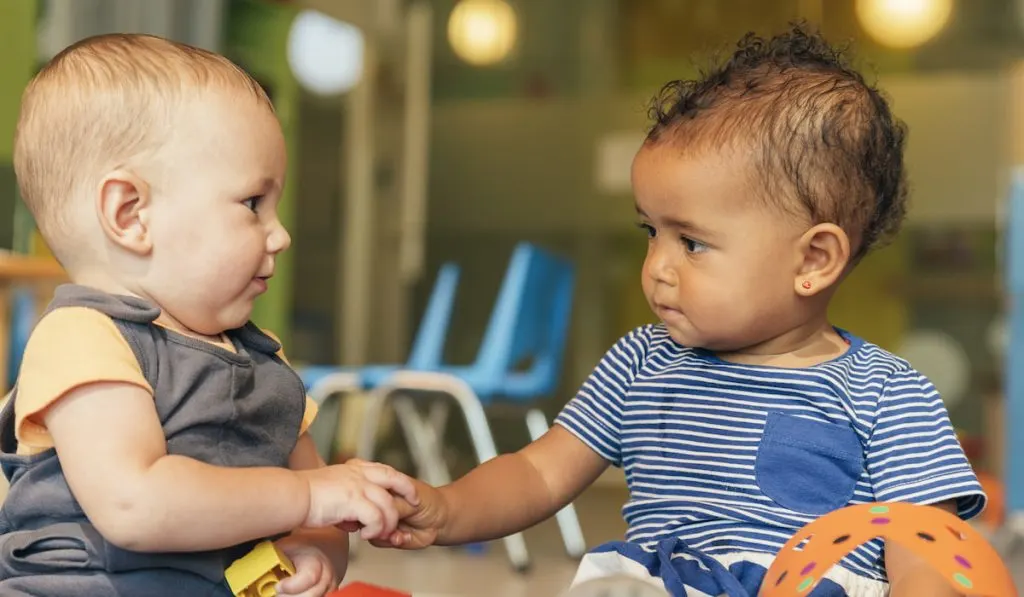 Gymboree
A Gymboree offers appealing classes for babies. There are different options including art and music. These classes are really enjoyable especially when there are other babies attending. Your baby will interact with other babies when using the equipment. They are mostly found in town centers.
You will definitely pay for the classes. Most Gymborees offer hourly classes and they may charge $5 per hour.
What to Pack
Conservatories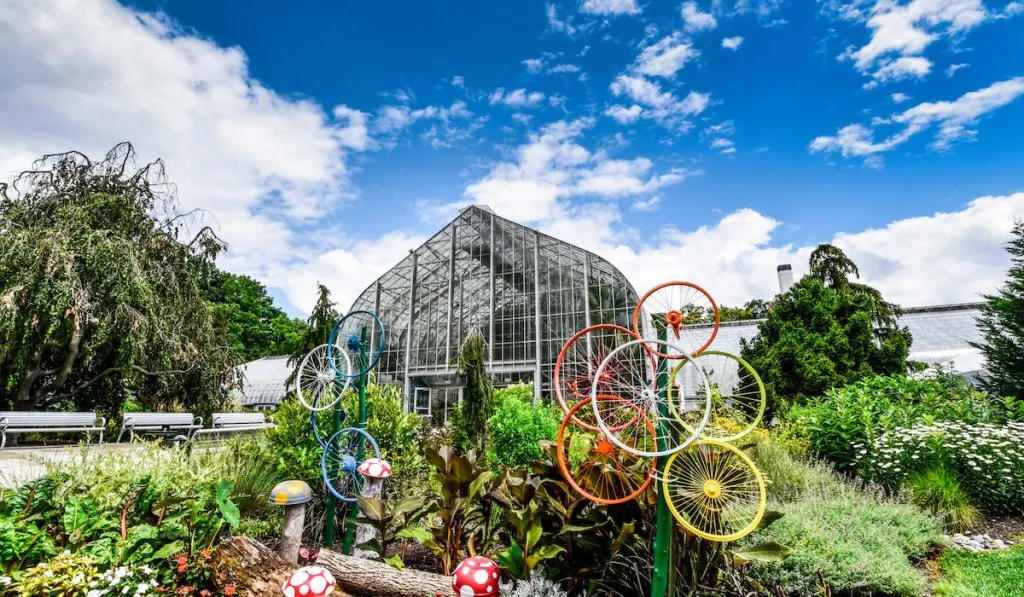 A conservatory is a great option on a rainy or hot day. Your child can enjoy the outdoors without actually being outside. Conservatories are usually free with a donation option.
Some conservatories do not charge entry fees. However, others do charge from as low as $3 per person. They are mainly located in town centers in agricultural showgrounds.
What to Pack
Children's Museum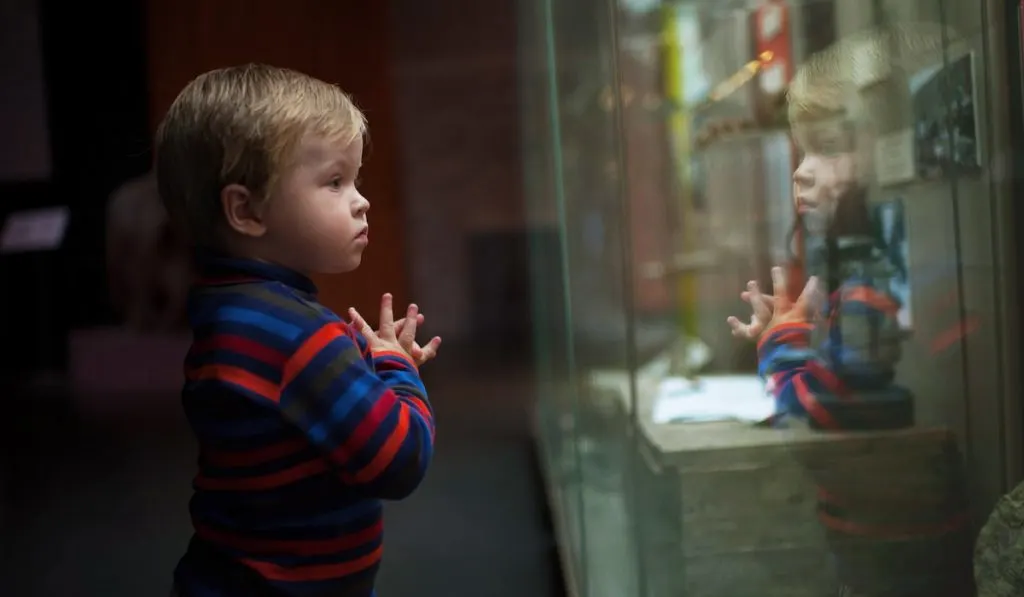 Children's museums are not like normal museums. They encourage children to touch and experience the exhibits and they have displays designed to appeal to all kinds of learners.
Most of these museums are located in larger towns and cities. These are amongst the most expensive places to visit with an entry fee that is usually charged per person. The rates are usually different for adults and children. You will probably need to be equipped with more than $30.
What to Pack
Extra clothes
Sunglasses if the weather is sunny.
A hat
Snacks
First aid kit in case of minor injuries.
A Pizza Buffet
A pizza buffet is one of the best places to take your baby to. Babies enjoy pizza just as much as adults so your child will have fun and so will you!
Pizza inns are found almost everywhere: in towns or malls. Load your pockets heavily for a pizza treat and energy drink or two. $80 will give you a good treat.
What to Pack
Wet wipes to clean his hands after eating
YMCA or Children's Program
The YMCA has many different programs for children that range from dance and music to sports to letters and counting. They are excellent for socialization and teaching your child to interact with people outside their home (source).
What to Pack
Snacks
Water in a water bottle
Your Backyard
If you are the indoor type and you do not want to go far away from home, you can take a walk in your backyard. Take some of your child's toys and he will have as much fun he would have had at the park.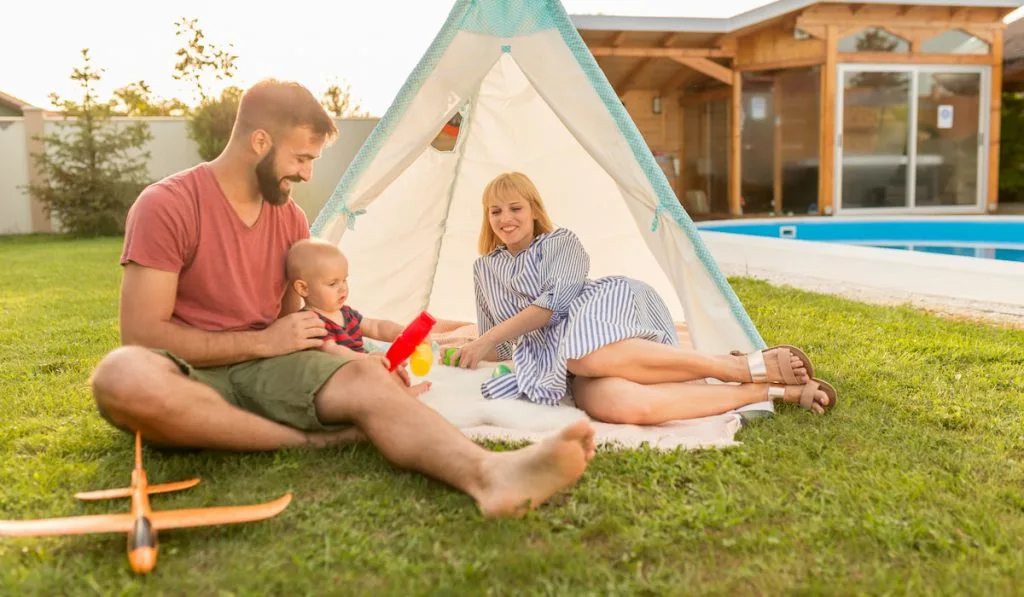 Things that will make your backyard more fun:
Water Table: Your child will love filling it up with the hose by himself
An inflatable pool: Kids love playing in baby pools. It will cool him off and he won't want to stop when it's time to go inside.
Slide: Kids love to climb, and your child will tire himself out going down the slide and then running around to climb back up over and over again.
Sandbox: A sandbox will entertain your child for hours. Be sure to get one with a lid so that it will stay clean and dry.
What to Pack
Since you will be close to the house, you can hang around with hand sanitizer to keep his hands clean.
Splash Pad
Splash pads are best when the weather is hot, especially during summer. Ensure you get your little one a swimsuit and visit the nearest splash pad.
The charges range between $5 and $10.
What to Pack
Snacks to keep his energy boosted.
A towel
A swim suit
Sunscreen
Petting Zoo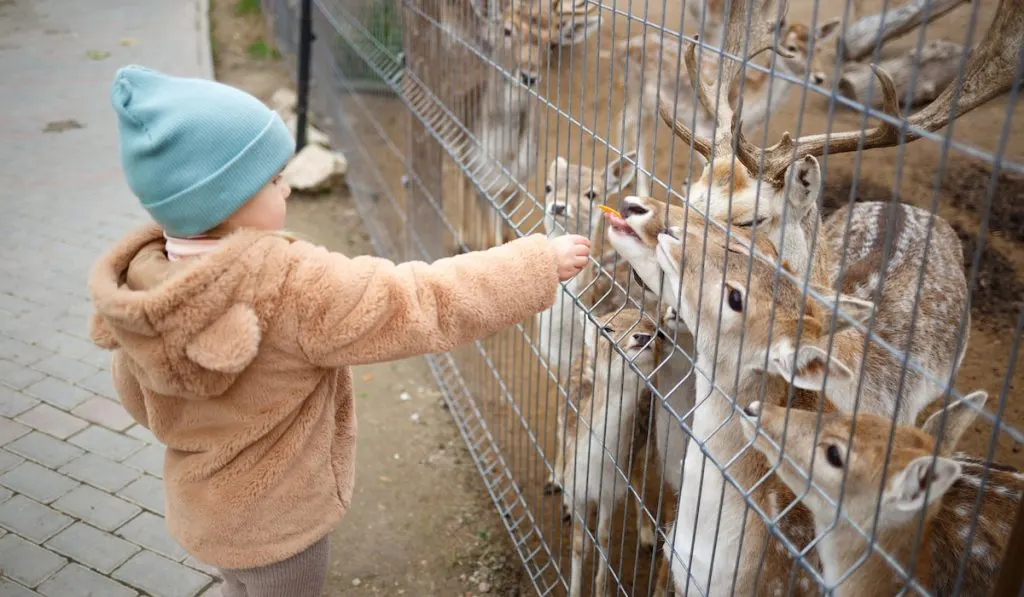 A petting zoo is a great way to acquaint your child with animals like horses, donkeys, cows, and goats. Engage your child in touching and also feeding the animals. They will definitely love the experience.
Petting zoos tend to be less expensive than public zoos. They are usually not more than $20.
What to Pack
A hat
Sunglasses
Hand sanitizer
Snacks
Clothes just in case there is change of weather
Beach
This is my all-time favorite leisure place. I love playing with the water and sand. There is a lot of room for learning and fun at the beach. Your child will benefit from the differences in textures with the sand and the water and they will love digging in the sand and splashing in the water.
Public beach access is free but you may have to pay for parking. Be sure to bring a little cash in case you want to buy snacks or drinks.
What to Pack
Inflatable pool for crawling babies who love to put things in their mouth
Shade umbrella
Mini fan to cool your baby's body temperature
Swimsuit
Towel
Sunscreen
A Mall
Walk into shopping malls and let your little one explore the excitement there. Take him up and down the escalators, walk into a baby shop and buy him a birthday outfit. Walk into a shop and get him some ice cream.
This can be a fun day for your child and they will be ready for a nap when you get them home.
What to Pack
Food Truck Festival
Taking your baby to a food truck festival will let you know what kind of foods your baby loves. You can purchase ice cream and snack for your little without spending too much more than $10.
What to Pack
Extra clothes
Sunglasses
A hat
Conclusion
Your baby's first year is important. Expose them to as many experiences as you can and enjoy your time with them. Choose your favorite place and make a call in advance to know their fees, hours, and possibly what you need to bring.
These activities greatly depend on your budget and the weather. Choose a weather-friendly activity. If the weather is hot and sunny, you can do outdoor places such as beaches, splash pads and swimming pools. For cold weather, you can stay indoors or go to a pizza buffet or mall.
Resources