*This post may have affiliate links, which means I may receive commissions if you choose to purchase through links I provide (at no extra cost to you). As an Amazon Associate I earn from qualifying purchases. Please read my disclaimer for additional details..
Keeping your baby entertained while you are busy around the house can be challenging. However, there are several ways to keep your child occupied, such as with a baby walker or an exersaucer.
What are the advantages and disadvantages of using these two devices and what are the differences between them? Read on to find out more about each toy and which may be best for your child.
Baby Walker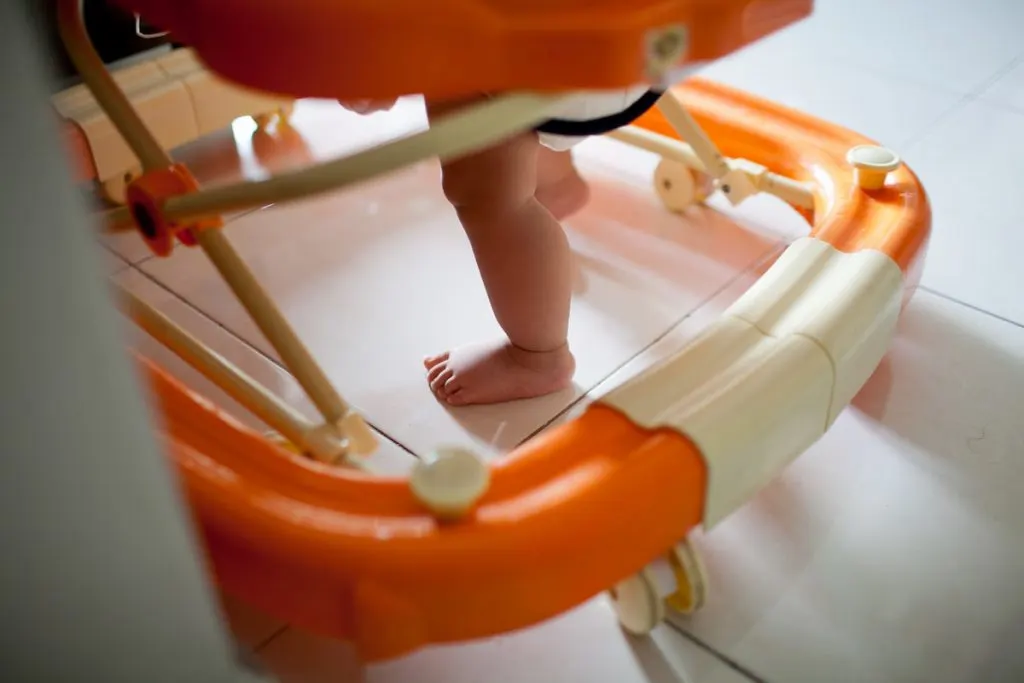 Baby walkers have toys that provide visual stimulation and mental growth that help keep your baby engaged.
For your baby to use a baby walker, he should be able to hold his head up and have his feet touch the floor when you place him in the baby walker. The appropriate ages are between 4 and 16 months.
The baby walker is used to keep your little one entertained while also giving them the ability to move around. Baby walkers are often made out of plastic and other soft materials, while sometimes the seat that holds your baby will either vibrate or play music to help stimulate their senses.
Some models will allow you to keep the walker stationery when necessary and also allow it to move around for more stimulus and exercise. However, you should always have an eye on them when they are moving around in their walker.
Your child may find it easier to stand and to take their first step between the age of 8 and 12 months thanks to a baby walker.
Disadvantages of a Baby Walker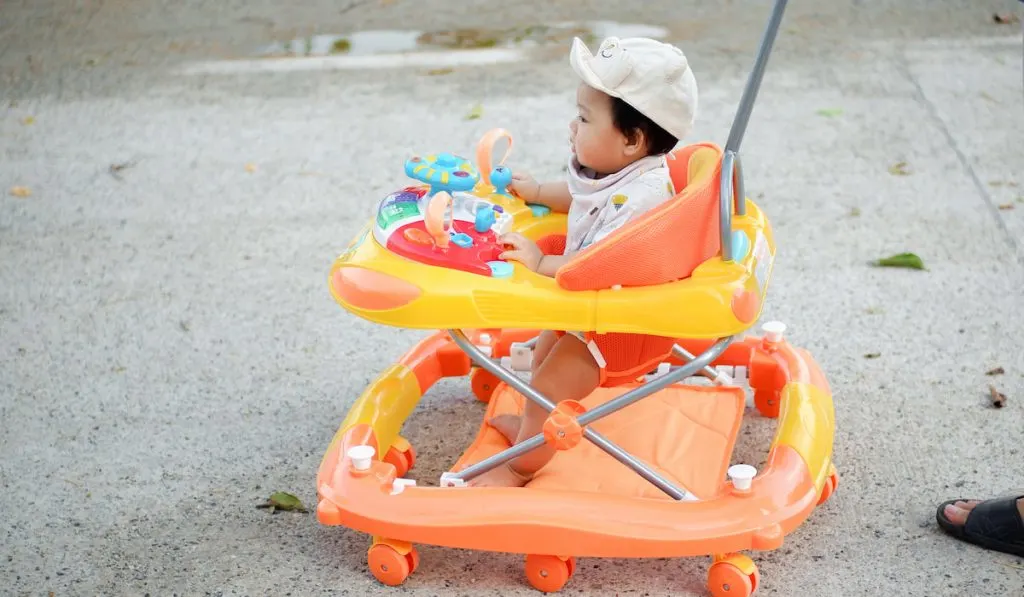 The problem with baby walkers is that when your baby begins to develop motor skills, they will easily push the walker around, possibly toward dangerous areas, such as stairs.
There have been numerous cases of children getting injured because of falls while in baby walkers.
Baby walkers are also known to affect a baby's development somewhat negatively because the walker limits their ability to execute appropriate body movements that strengthen their back muscles. These muscles are necessary to develop as they approach walking age.
The best precaution to take as a parent is to ensure you give your baby ample time out of the walker so they can learn their motor skills and strengthen their muscles to aid in walking.
The best way to teach your baby how to walk is by giving them a toy with wheels and a handle as a support. This will help them obtain good balance and psychomotor coordination. You can also assist them while encouraging them to walk.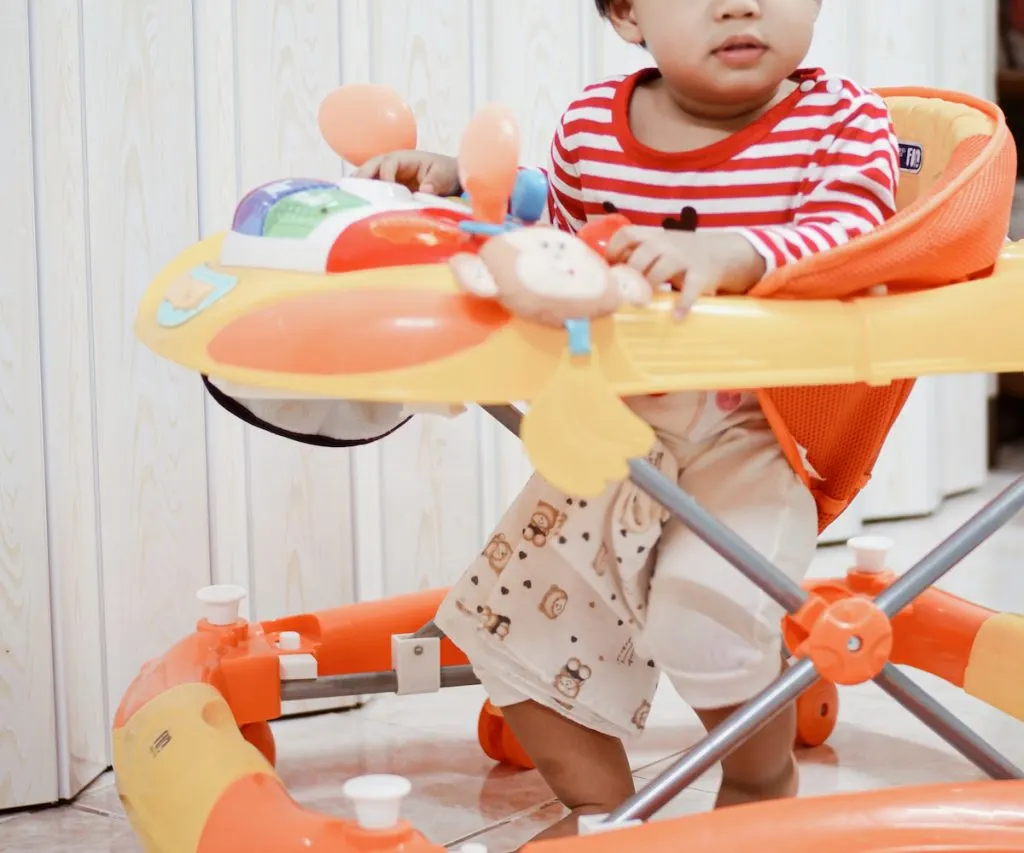 The Exersaucer
The exersaucer came as a response to walkers. Exersaucers keep babies entertained without parents worrying that their babies will move around like with walkers. They help with your child's motor skills by having them stand and bounce around in a safe area.
Many parents see an exersaucer as a welcomed necessity, and this is because it provides a place for a baby to sit and a saucer-shaped bottom without wheels so that your baby can safely stay in one place.
You do not have to worry about the baby going to the stairs or near a hot stove. Parents can do other chores with peace of mind knowing their babies are safe in their exersaucer.
Exersaucers were designed with a harness system to prevent your baby from falling out of the device.
Exersaucers are also helpful because they will help with your baby's motor skills. If you have a hard time keeping your baby entertained by placing them in a walker, an exersaucer is a much safer alternative.
When you begin looking for an exersaucer to purchase, you will notice that there are many different styles. Still, they all come in a standard circular shape, perfect for your baby to bounce around and play with the toys all over the device.
Your baby should be able to hold his head up unassisted and sit without support to use an exersaucer (typically from 4 months). Even though your baby may seem safe in their exersaucer, you should always keep an eye on them.
Also, you should ensure you have locked it in a correct position to prevent it from collapsing.
Disadvantages of an Exersaucer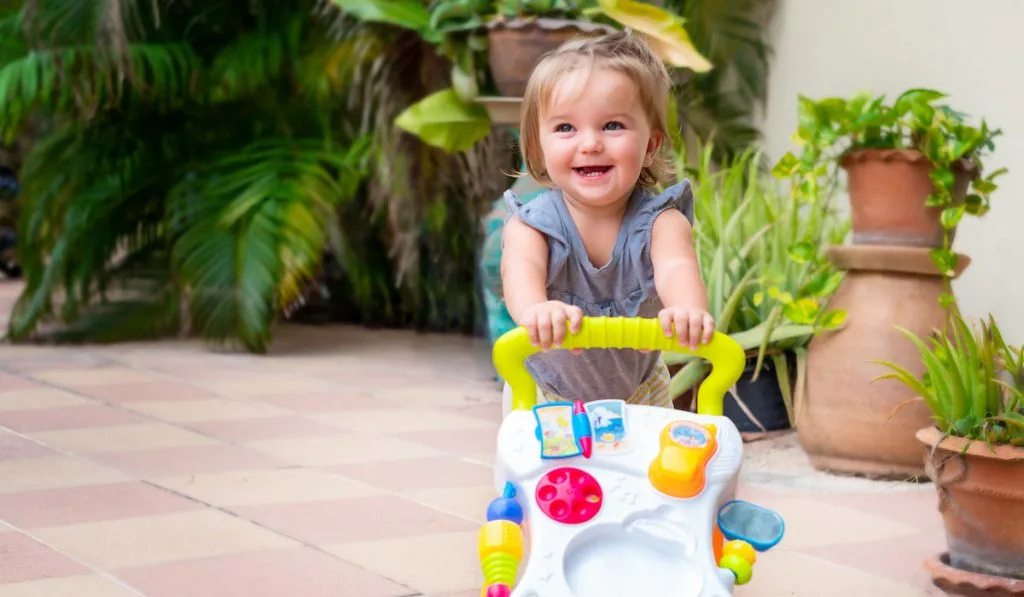 Babies that spend more time in exersaucers may tend to find it difficult to walk without support. They also find it challenging to stand upright without it. This is because they are used to standing with support.
If you plan to buy an exersaucer, make sure you give your baby adequate playtime away from the exersaucer. This will help them become more independent and strong.
Babies who spend most of their time in exersaucers are at an elevated risk to develop 'Container Baby Syndrome." This condition has symptoms of a flatter head shape, delayed muscle development and tightness in the neck area. It may also cause them to have delayed milestones like crawling, lifting their head/hands, and some impacts on sensory and cognitive development.
Of course, babies differ, and some children may not experience these negative effects. However, it is safest to have your child spend most of their time out of the exersaucer.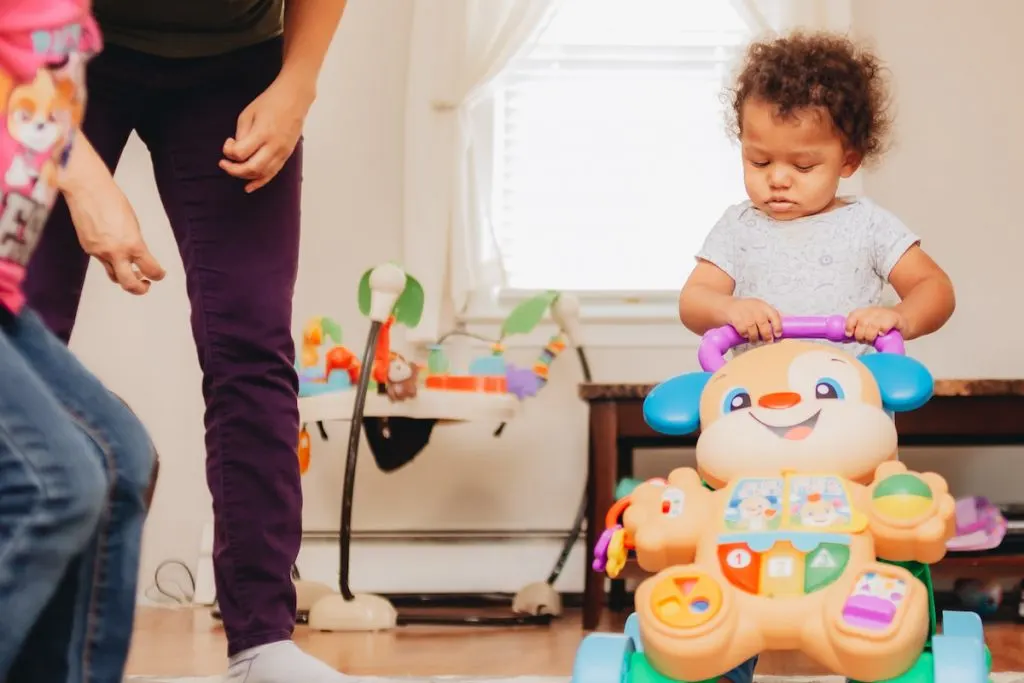 Common Features Between the Exersaucer and a Walker
Some features that the baby walker and exersaucer have in common are that they both come equipped with toys that you can change out as your child grows. The walker and exersaucer also give the ability for you to place a few toys within their reach so that your baby can play with them at their own will.
Some of the toys also have soft fabric and textures on them that can aid in sensory recognition.
One of the main differences between the two is price. The exersaucer tends to be a little bit more expensive, but it can last a lot longer than a walker.
Summary
All babies are unique, and you must determine what is best for your child. However, you should, by all means, consider the risks that come with both the walker and the exersaucer.
If you find that your baby enjoys the walker more than the exersaucer, then, by all means, get them a walker.
It all comes down to how comfortable your child feels inside these devices while also keeping in mind safety precautions.
Be sure to give your child adequate times out of the walker or exersaucer so they can develop their muscles, coordination, and learn to walk independently.
Resources: