*This post may have affiliate links, which means I may receive commissions if you choose to purchase through links I provide (at no extra cost to you). As an Amazon Associate I earn from qualifying purchases. Please read my disclaimer for additional details..
Babies have very sensitive skin and taking them to the beach unprotected is a recipe for disaster. Many new parents know the pain of giving their newborn too much sun. A sunburned baby is never fun for you or your child. In severe cases, a sunburn can be very harmful to the baby.
It's also easy to underestimate the power of the sun. Your child's skin hasn't had time yet to develop resistance to UV rays. They tend to burn much faster and much deeper than an adult or older child.
It's incredibly important to make sure they aren't in strong sun for too long.
Packing the right things for a beach vacation will save you the pain of seeing your newborn with a bad sunburn. Make no mistake, it will spare them a lot of pain too! Protect your child and use this baby beach vacation packing list to make your time away fun and safe.
Shade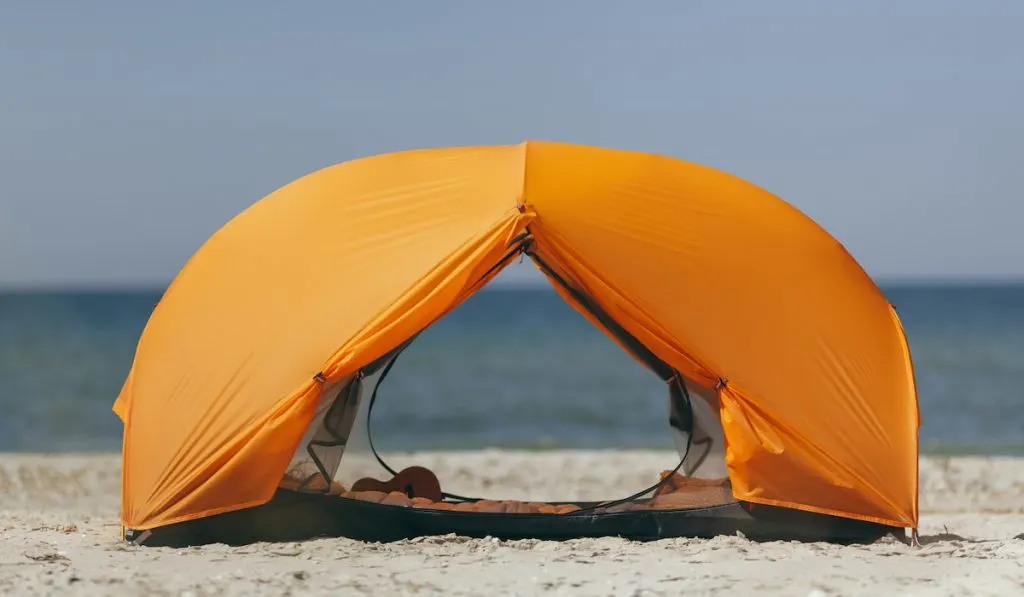 Shade is the first thing you should think about. Yes, you should bring sunscreen, but even the strongest of sunscreens isn't going to be enough for an entire day at the beach.
Your baby isn't accustomed to being out in the sun for hours, so the sun will drain them a lot faster than it will you or any other older children that you have with you.
You should certainly bring a nice big floppy hat for your baby that will help keep the sun out of their face, but you're going to need more shade than that.
If you're planning all day at the beach, you will want to bring some or all of the following items to keep your baby out of the sun:
Umbrella
Beach Tent
Pop-up Canopy
These will give your child time out of direct sunlight to recuperate. If you're breastfeeding or it's time for a bottle, just imagine how hard it will be for your baby to eat while they're staring up at the bright sun.
Make things easier for them and bring some sort of shade solution while you're out on the sand.
Sunscreen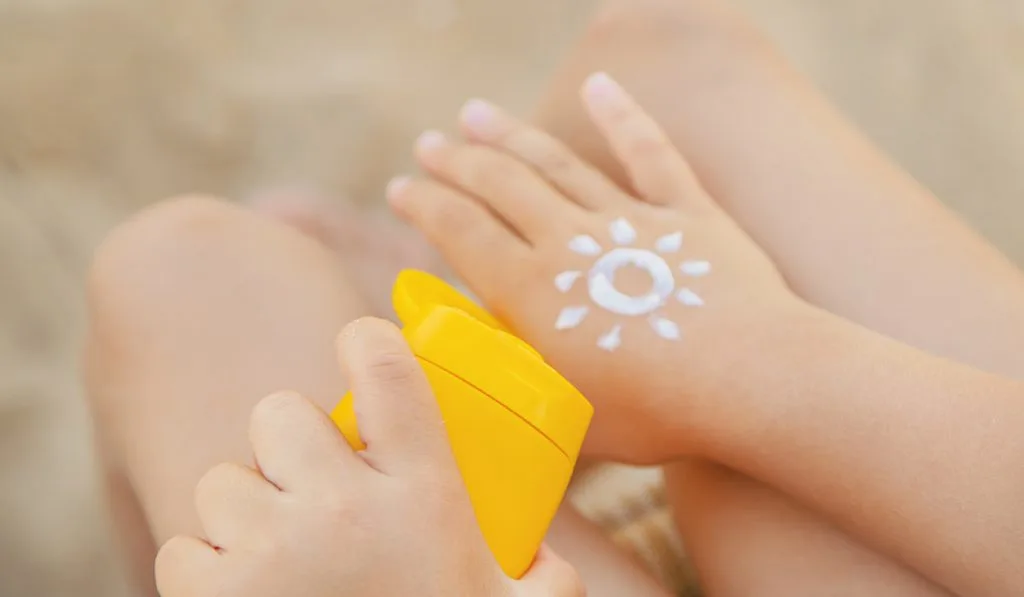 As a precaution, buy the highest-possible SPF sunscreen you can find. Nowadays, companies make sunscreen designed specifically for babies, so buy some of that.
You might want to test it out on your baby before the vacation to see if they have any sort of adverse reaction to the sunscreen. Put a tiny bit on their foot or hand to make sure it's okay to use.
Read the instructions on the container, whether it's a lotion or a spray, to know how often and how much you should put on your child. Do your best to keep it out of their eyes when you put it on.
Multiple Outfits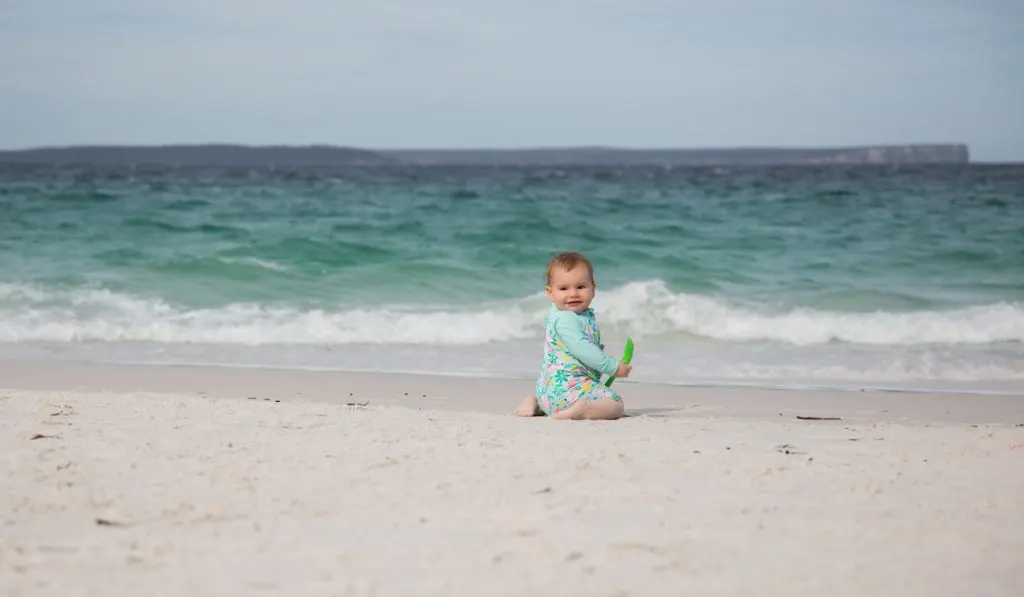 Everyone with a baby knows to bring multiple outfits no matter where you're going. They might have a blowout or throw up at any moment, and you don't want to have to trudge back to your beach home or hotel room.
Carry one or two spare outfits. You also don't want them sitting in wet clothes for too long, which is why the extra outfits come in handy.
As mentioned, baby skin is sensitive, so if they're sitting in a wet diaper or a swimsuit for too long, rashes can form and cause them pain for days.
Water Bottles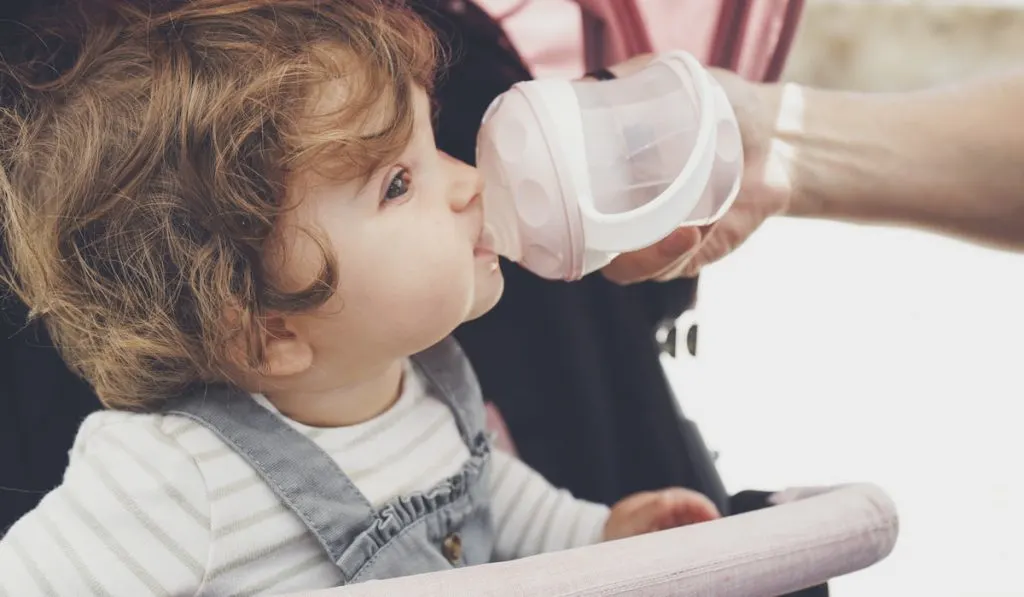 At some point, your baby is going to get sand in places they'd rather not. Depending on how old your baby is, they may even give eating sand a try.
A water bottle will come in handy when you want to get sand out of crevices and baby mouths.
Swimsuits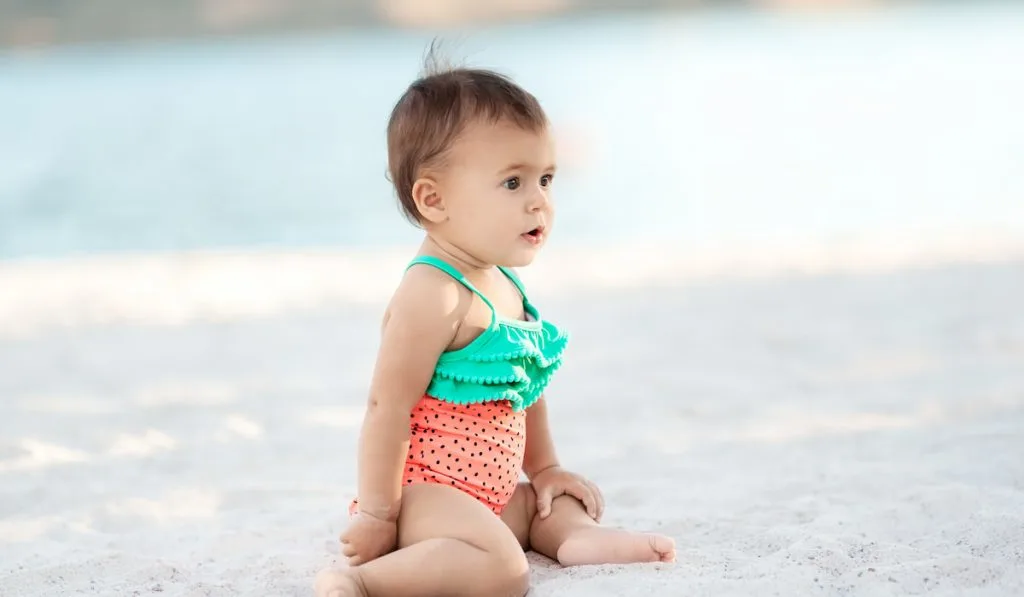 If your baby is older than six months, then they'll completely love being in the water. They might be a bit intimidated if there are waves, but if you've got a pool or the ocean is calm where you are, then they can spend hours in the water splashing and playing.
Bring some suitable swimwear for your baby, and maybe even bring two swimsuits in case one isn't dry by the next time you want to go swimming.
A Floatie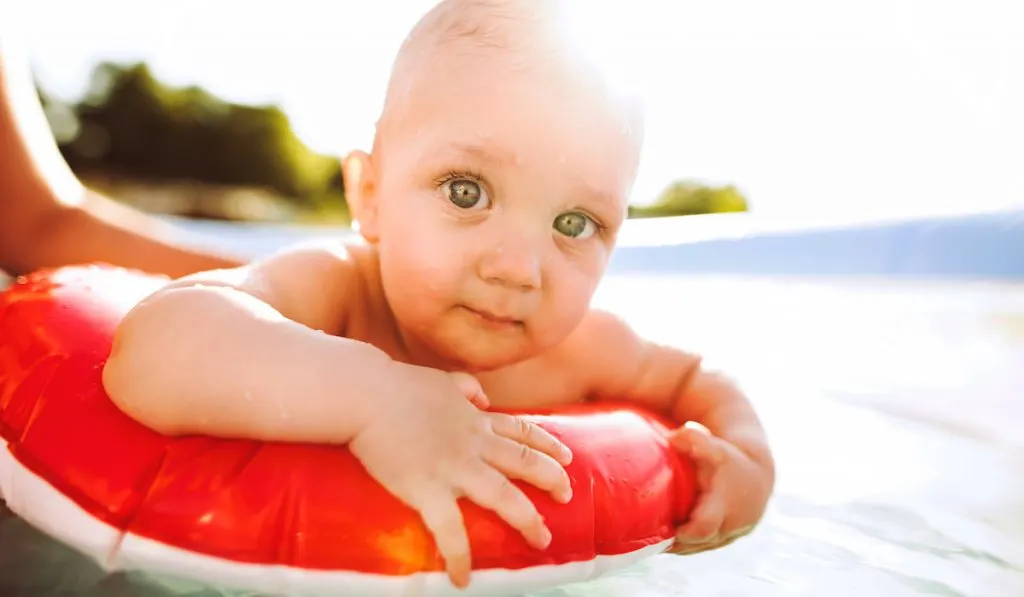 Whether you're swimming in a hotel pool or want to take a dip in the ocean, a floatie with leg holes and rear-end support will allow you to take your baby along for a swim without holding them up with your arms the entire time.
Find something age-appropriate and perhaps bring an air pump to make blowing it up a lot faster.
Swim Diapers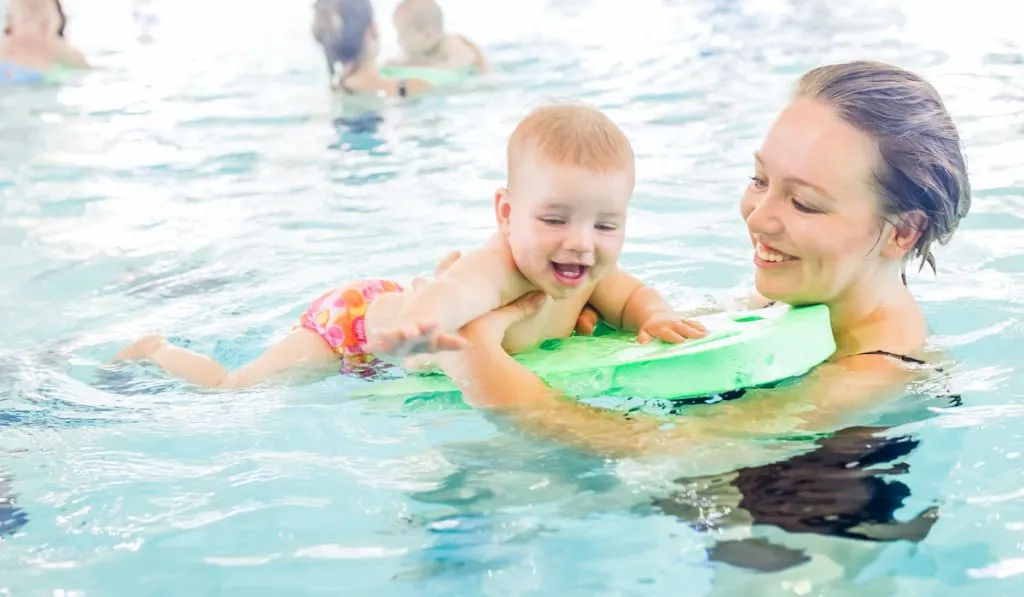 Most seasoned parents have laughed at times when they forgot to pack a swim diaper. Good luck trying to keep your baby or toddler out of the pool just because you don't have the right diaper.
Soon enough, your baby is going to be lugging around a ten-pound normal diaper soaked full of water. Don't make this mistake. Bring some swim diapers designed for hours in the pool or ocean.
Food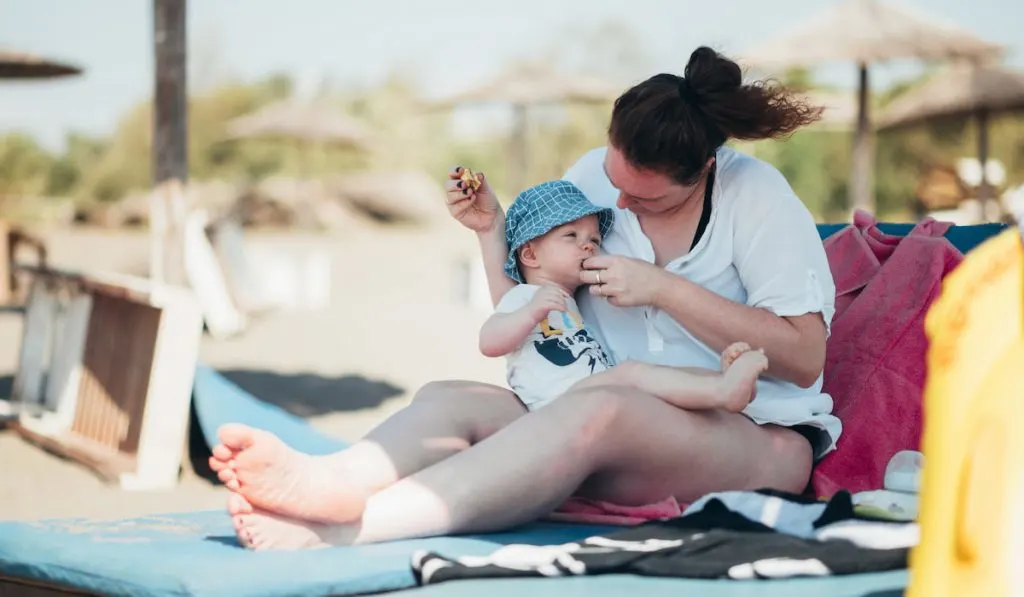 Don't forget food and drink for your baby. Different ages require different items, so be sure to pack formula, baby food, cereal, and whatever else you need to make it through the beach.
Do your best to keep your baby's hands sand-free while they're eating too. It's not a huge deal. If they don't mind, the sand isn't likely to do anything bad to them.
Baby Carrier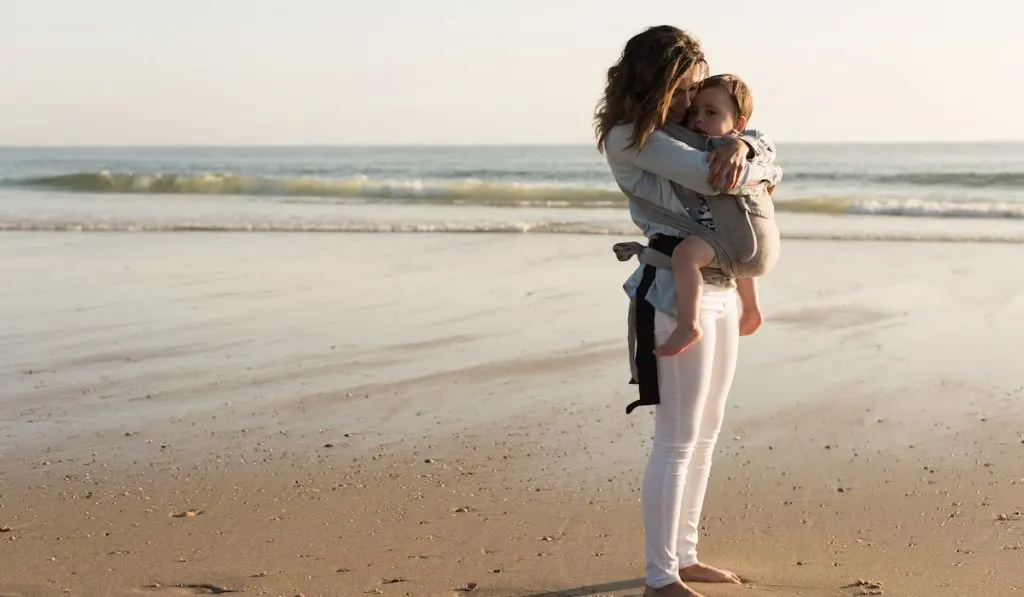 The first time you take your stroller to the beach will probably be your last.
It's incredibly hard to push a stroller through sand, so this time you may want to leave the stroller in the room and put the baby in a carrier instead.
Wipes
You always seem to need wipes when you have a baby, so pack a bag of wipes as well.
They're good for washing sandy hands, getting sand off faces, or getting excess sunscreen off of fingers and toes.
Printable .PDF Beach Packing List
If you want to print out a list to keep handy, we've created one for free!
Conclusion
These items are a great starter list for a baby beach vacation.
You'll learn which items your baby needs as you go. These, at least, will get you started in the right direction.
Resources